Having fun and playing interesting games is the most joy and amazing experience you probably enjoys the most. Have you ever thought of having a party & playing party games over a virtual platform?
If not, then today let's try out one of the interest and engaging concept which 'Facebook Party Games'
By the name you might have got an idea on what this party game would probably look like.
Before actually getting familiar with some interesting games let's quickly have a short overlook of this theme party and its game
And, not wasting any further time and let's just straight dive into
What Is Facebook Party?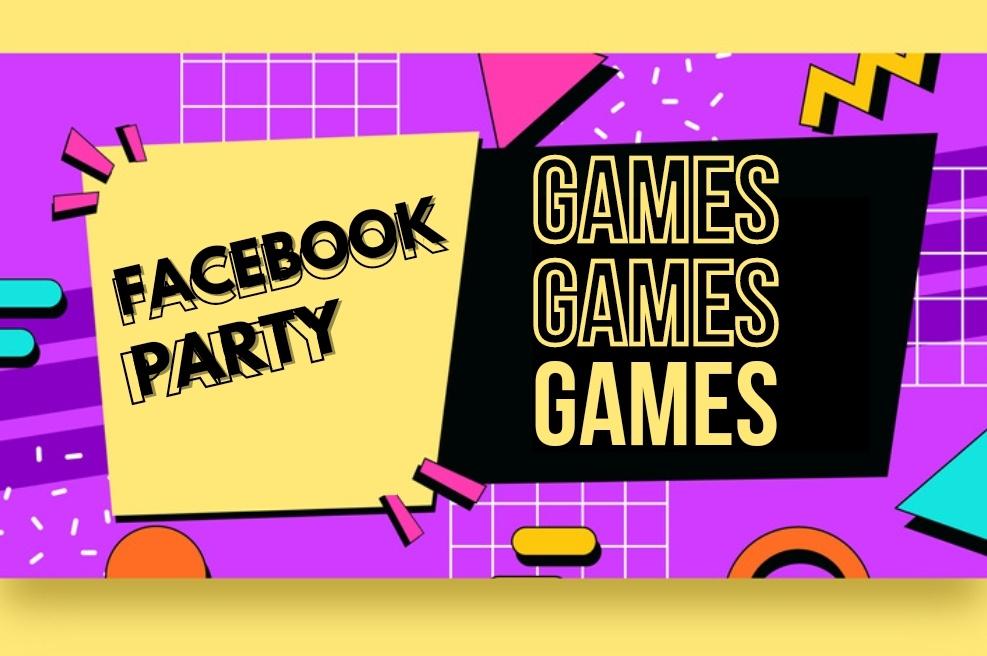 A very interesting and engaging way to organize a party over Facebook handles which can hosted under specific groups, pages or within a small private team.
The idea is simple, all the activities and task will be organized online and there will be time limit depending upon the availability of all the members/guests.
To have a better control and unlike a normal offline party, there can be a host who can take every responsibility to make this Facebook online party a success.
The main role and duty of that host will be particularly to welcome all guest or members online on time, introduce them with other members and guide them with all the rules, regulations and rewards that are part of this theme party.
So now without any further ado let's dive in
Facebook Party Games
Guess That Movie
This is very common but remember this might be first time for you to play it online along with new people and probably with your friends.
To make it more fun, the host can divide the number of guests into two equal team.
Now, both the teams will share their favorite movie names to be used to the host and the host will take each movie name one by one and will ask the other team to guess it.
Example: If the host decides to take movie name from TEAM B then, the host will let any one member of TEAM A to know it and that member of TEAM A will inact the movie name to his team.
Remember, any moments of going offline and trying to cheat via turning off your mic will lead to disqualification.
Internet connection, low quality will truly make it more engaging and hilarious.
Pass & Take It On You
The next in this Facebook party games list is pass & take it on you.
One thing which is very guaranteed is that all these games will be absolute fun.
To begin with this game, all the members needs to be very active.
The game can be played over text in the group,
The host will decide on to one particular word, let say – 'BRAVO'
and the game round begins and every other member in the group will start typing 'BRAVO' as many times they wishes to
And now it is upto host and all of a sudden whenever the host wishes he or she may called it off and type 'STOP' and thus it will signals the round is finish.
Now, whoever will be the last person to type 'BRAVO' will have to do whatever the majority of the group members decides to give as a punishment or as a 'Dare'
Draw It Down
This one will surely bring some hilarious laugh. In our childhood we all used to draw some non-sense and hilarious drawing (Disclaimer: Not including good artist/painters).
In this game all your art and creativity will be exposed in under 1 minute.
Yes!
The game is simple, the host will decide on to some character or any word
For example: If the host says 'Tiger' all the other group member will start drawing 'Tiger' on their paper in under 1 minute.
The time is 1 minute for each round.
Under 1 minute obviously no one can exactly make a perfect picture but a lot of you might end up in drawing some crazy sketches.
Once the round is finished, all the members sketch will be lived either by posting or showing it on camera (if this game is played via video call mode).
And whoever has worst sketch will lose a point and the best one will get 5 points.
Similarly there will be 10 rounds and at last the winner will be decided and will be rewarded accordingly as the host had decided on earlier before setting up this game.
Guess That Member
Really interesting and will let you know how well your friends knows you in reality.
The game is simple and should be played in a video call,
It begins like all members will one by one put or list down 3 – 5 things about themselves will secretly pass it on to the host.
Now, once the list is recieved
It is the time to pick any one out of the random selection and the host will talk about that.
All the other do have to guess it for whom all those talks, things would be for
And whenever someone guesses it correctly, that members gets 5 points and it will go until the list of all members is completed.
At the end, the member with the highest guessing points will be rewarded.
Tho, it might sound very boring but interesting things, secrets, fake facts and all that other stuff about your friends will definitely bring your attention and interest to this game.
Pick Any Number
Simple but very task doing or might be rewarding for some other players depending upon their luck.
The game is easy, one by one over a video call the members do need to pick a number (it could be any number from 1 – 20, depending upon the host how much they wish to add).
And let say if any one member picks up number 5 and straight forward into it is written something like – 'Drink hot sauce water' then that member needs to do that task.
It needs not be necessary that everytime it will be a task or punishment but could be something rewarding like – sending $50 cash, all members likes profile pic, a meal from KFC and etc.,
Rolling Alphabet
Very interesting and engaging game to play along with your friends and could be more fun when playing over Facebook group.
The game goes like,  any one member will say alphabet 'A' and will connect one statement like – Artist is never off minded from his creativity
And then it repeats the same from next alphabet 'B'
Question Games For Facebook Groups/ Facebook Party
Truth Or Dare Game Questions
Old fashion and kinda school game but will be real fun.
Some quick truth or dare game questions –
• What is your weirdest nickname?
• What was your most embarrassing moment in life?
• Have you ever been dumped by a girl?
And so on!
If any of the members fails to answer then he or she might need to perform one dare task to continue the round.
Friends and deep dark secret questions will definitely increase the joy in this game.
Recommended Article:
Fun Games For Sweet 16 Occasion
Never Have I Ever
The alternative questions game but might be tricky at point!
The host can really spice up this game in advance by collecting some inside facts and talks about the guest and at the point of hosting this game, things can go beyond fun.
Some interesting Never Have I Ever questions –
• Never have I ever involved in a fist fight?
• Never have I ever lied to my girlfriend?
• Never have I ever got caught in an examination?
Yes Or No Questions Game
All the players can play it at once and this could be more innovative and engaging, as a host you can request all members to get or make their own YES or NO hand signal board.
The host might ask some fake, spicy and entertaining Yes Or No questions to get more members to show their interest in this game.
Facebook Party Games To Increase Engagement
Post That Post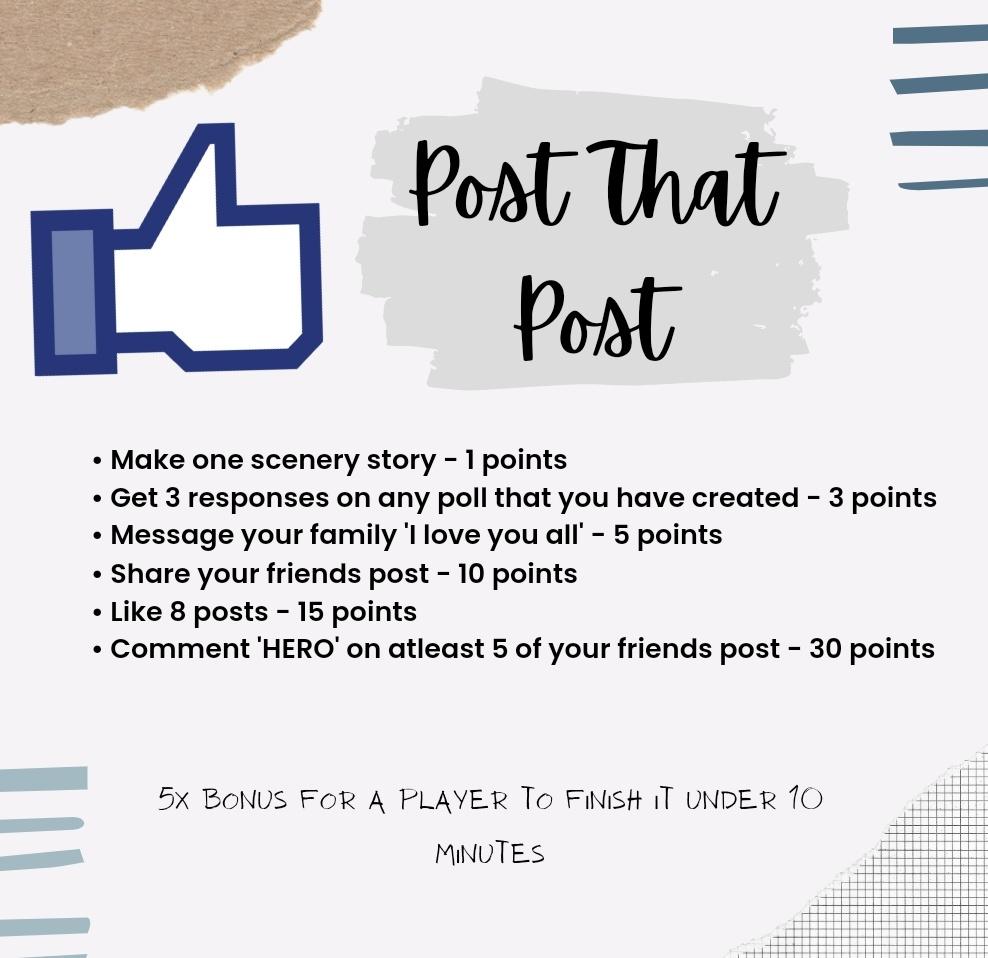 One of the most engaging concept and game idea you can probably throw in this party game.
As in the above image, there are different sets of task and activities which all of the members in this group game need to complete inorder to finish in the priority list.
And whoever completes all the task, which will be self-monitored by the host and after checking and determining the first member to complete he or she will be rewarded.
Copy My Story
Hop over a video call or in a engaging group conversation and discuss about the basic rules of this game.
One by one members will decide on the different story themes.
For example: If Rick decides – 'Rain Forest' then except Rick all other members will and needs to post a story related 'Rain Forest'.
Wait for 30 min!
After the time period, each and every members do need to share their story views (screenshot) in the group and whoever gets the more story views will win this round and will be rewarded accordingly.
Delete That Post
This something really related to caring for your colleagues social profile and their account health.
The game is kinda voting system.
Every members in this game, require to share social account profile let say everyone arrives at consensus of going with Instagram.
Now, one by one each members account will be reviewed.
Example: Rick's account is getting reviewed and now it depends upon all other members to decide which post to delete (but remember only those images or videos that has got less engagement than usual as compared to other post).
After deciding, Rick has to delete that post and if not Rick will be eliminated.
Poll Out That Activity
Really simple but can turn out to be one of the fun facebook party games ideas.
Rules are simple, the host will set out certain 8-10 horrible activities
Horrible activities like –
• Make a fake call
• Comment one controversial thought on your friends post
• Record one fake sad story
And so on.
Now, one by one each members will have to take their chance
Example: If it is Jim's turn, and all the horrible listing are been set up in the poll section then except Jim, all other member will vote out for any one activity and the sections which gets the highest vote, Jim has to perform.
That's pretty much it from all the fun Facebook party games that I can probably list out.
Before taking off with this theme party game ideas let's just quickly check out some FAQs
How do I host a Facebook Party?
Get all your friends and colleagues to be well informed in advance through Facebook group or through WhatsApp group.
Let all the members do know about the theme if there are any specific and ask them to be well prepared with perfect network connection.
What do you need for a Facebook Party?
Firstly, crazy audience and inorder to send them invitation you may need additional 'Template cards' or 'Invitation cards'
Secondly, you need good host who can take responsibility of controlling every activities and task during the party.
Thirdly, you need good bunch of activities and task to be jot down so that the host can get idea about the party is getting into flow.
Lastly, for winners there be must an arrangement for rewards and prizes.
How do you make a Facebook party fun?
This can be done both by the attendees by bringing some fun elements such as hand board signs, party supplies. Apart from the attendees, the host can play a major role in bringing actual fun in the party by hosting cool and real engaging games that leads out into hilarious laugh and joy amongst all members.
Caring for all members and what's interest, this little research can play a positive impact in creating a fun atmosphere
Recommended Article
Most Fun BBQ Party Games Ideas