Want to host an awesome pyjama party? Then this blog post is for you.
We all had done pyjama parties when we were kids and we do it now with our friends.
Because it is super fun and this memory will become the most precious in our life.
We have compiled this list of pyjama party ideas after research and here I have shared some party ideas that I had personally experienced.
So if you want some unique ideas, continue reading and you might find something awesome!
So let's start the article without wasting any time. 
How To Plan Pyjama Party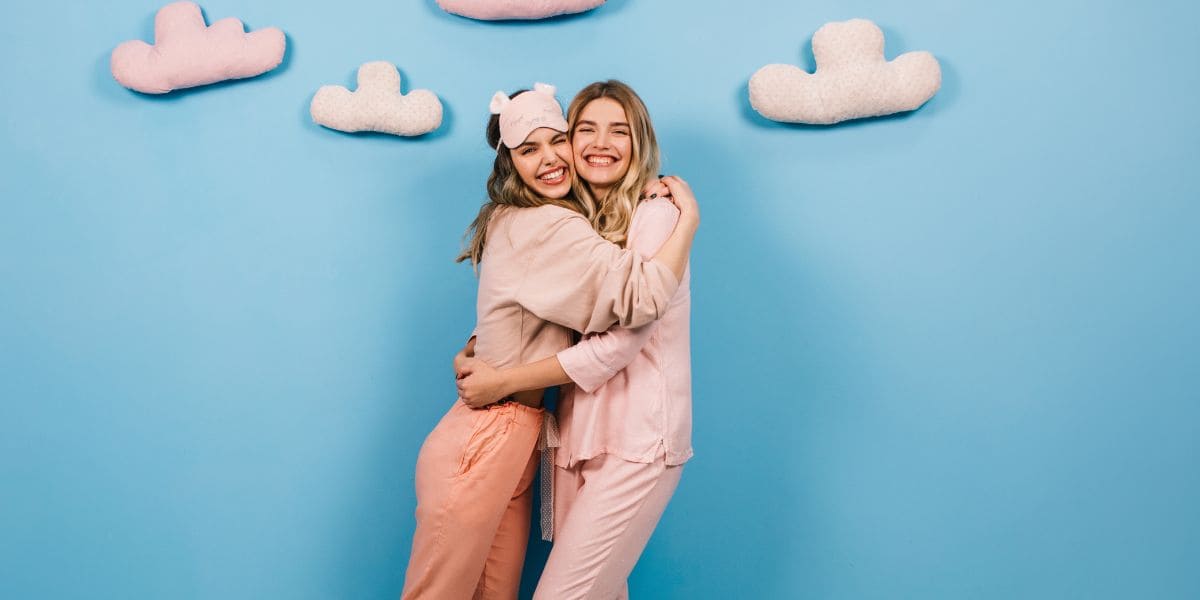 If you already know how to plan a pyjama party then you can skip this part and directly scroll down to check the unique ideas that I have shared. 
But if you don't know or are curious just check it out you might find something interesting.
So let's start.
There are five main points you should focus on-
1 Guest List
2 Theme Ideas
3 Games 
4 Activities
5 Food
These are the five things you can consider when planning a pyjama party.
1. Guest List
The guest list is important because you need to know who you want to invite.
Just select people and make a guest list. That's the first thing you should do if you want to throw a pyjama party.
You can also get creative with this when you send an invitation to your guest. 
Just make an invitation card design unique or similar to the theme you are planning.
That will catch people's interest or make them more excited.
But when you said invitation just list down what you will do and if there is anything to bring.
List out the rules and everything. 
2. Theme Ideas
This is the main part of the party. If it is not done properly then the whole party might become more boring.
A good theme can make a party more fun.
The rest of the food and games will depend on the theme.
Just make sure that you select something fun.
Below I have shared more terrific theme ideas you can check out.
3. Games
After deciding on the theme now you should make a list of games.
Games can make parties more fun and bring more joy to people.
You can search it online, there are tons of games there.
If you can choose a game theme based that will be best.
Just make sure what you would select should be fun and that's all, in the end, what you want is to enjoy right?
4. Activities 
Just planning activities will help you a lot. 
Activities can make parties more entertaining for guests.
For instance, you can all do karaoke which will be a fun way to spend time.
Just make sure what you plan can be fun.
Hope you choose great activities.
5. Food
Well without delicious food I don't think anyone will be satisfied with the party.
Food can make one satisfied so don't compromise on this.
You can select a recipe that you like and make it at home.
Or you can also order from outside.
If you are good at cooking then you can make it at home. 
Food must be tasty, that's all you have to do.
For instance, you can make popcorn with different flavours and give it to your guests.
Just simple and delicious. It is awesome, right?
Awesome Pyjama Party Ideas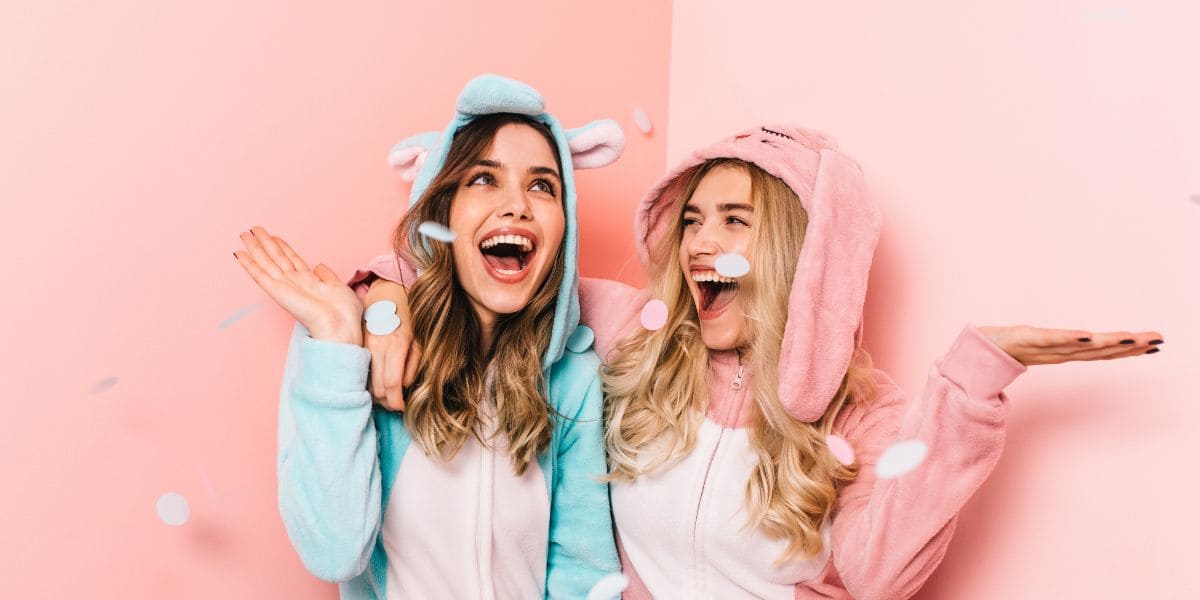 Now you know how to plan a pyjama party, Next step is to think of the best pyjama party ideas.
Theme party ideas are also good, so below I have shared awesome and unique party ideas.
Hope you like it. 
1. Movie Party
This is one of my favourite things to do with my friends.
Just simply watching movies all night and enjoying the popcorn.
It's simple and amazing.
You can go all out in this, you can watch the show or movies that you didn't get to watch, you can watch them here.
One person can select only one favourite movie, this way everyone got a turn to select their favourite movie.
Hope you have a blast at a party with your friends.
2. Dress Like Celebrity 
You can select this theme if you want to do something unique at this party.
Everyone can try to dress like a celebrity they like.
It will be more fun seeing them dress like celebrities. 
Take a photo at the end, because this moment will be precious.
You can also play games related to celebrities, for instance, quizzes related to celebrities or acting like them.
3. Video Games 
Just playing video games all night will be an amazing experience.
Just imagine playing games with your friends all night, will it be awesome or not?
You can each bring your favourite game or you can all vote and select one game from the list that you made.
Just enjoy video games with your friends and hope you win more.
4. Making Food 
Just talk with your friends beforehand if you want to take this party theme.
Just ask your friends what food they like and what they like to make.
Discuss and select a few dishes that your group can make.
It is more awesome when you all make something together, It is one of the most amazing moments.
Hope you make incredible food with your friends.
5. Singing Party 
Who doesn't love music? Just make sure you have a speaker ready.
All of you have to sing to your heart's content to enjoy this song party.
You can all sing your favourite songs or select together which song to sing.
Just remember you just have to enjoy music. That's the true meaning behind a singing party.
6. Dance Party
Dance till you feel satisfied, you just have to dance and enjoy.
Select which dance all of you will perform and keep changing so that you can experience different dance styles.
Hope you will show some amazing dance.
7. Neon Way
Decorate your house with neon colours and make it glow and enjoy the neon lights.
It's an awesome experience and I know you will not forget it.
Dance, sing, eat or sleep it is up to you what you wanna do.
8. Decorate Your House Like the 80s Or 90s
If you are interested in uniquely decorating your house then this idea is for you.
Don't tell your friends how you are decorating your house, it will surprise them.
Just buy things that are related to the 80s or 90s and decorate your house with those things.
You can also tell everyone to wear clothes like that time. This will be more fun.
You can also use this theme to make the party more fun and unique.
9. White Lie Party
The concept is that you tell your friends to wear a white lie on their white shirts.
You will get to know your friends better and will have a good laugh together.
To know more about White Lie Party Ideas then check out the article below you might find this interesting
10. Costume Party 
One can wear their favourite costume and come to a party.
You can select the theme and according to that, they can wear the costume.
Or you can let them wear what they like.
This way everyone will have a different costume and look different.
Make sure you take photos because this moment will never come back.
Pyjama Party Game Ideas
1 Movie Quiz Or Tell Me That Scene 
After watching the movie you can ask each other questions about the movie and whoever answers wrong will get punishment.
Or you can simply ask which scene was awesome.
Just add a condition that the loser has to do something that the winner tells.
2. Question Games 
There are many question games you can play with your friends.
You just have to prepare a list of questions if you want to make fun of your friends.
There are many questions games you can try, below I have listed a few you might like it-
1. Truth or Dare Questions Game
2. Would You Rather a Question Game
3. Yes Or No? Question Game
4. Twenty questions
Hope you find something unique.
Below Is the article where you can find more question games you can check out if you're interested-
19 Fun Question Games to Play With Friends
3. Guess The Thoughts
I play this game with my friends a lot.
You just have to guess the thoughts of another person, if you guessed it right then you win.
Sometimes when you guessed right in a row you will feel you have gained superpower but that's just luck and nothing else.
So yeah this is super fun try out with your friends.
4. Pillow Fight
Simple and fun game. One of the best games to play at a sleepover.
What you need is only a pillow just grab it and aim at your friends.
You can also add punishment to loser or play in team to see which team hit the most.
Just enjoy and have a nice pillow fight.
Final Thoughts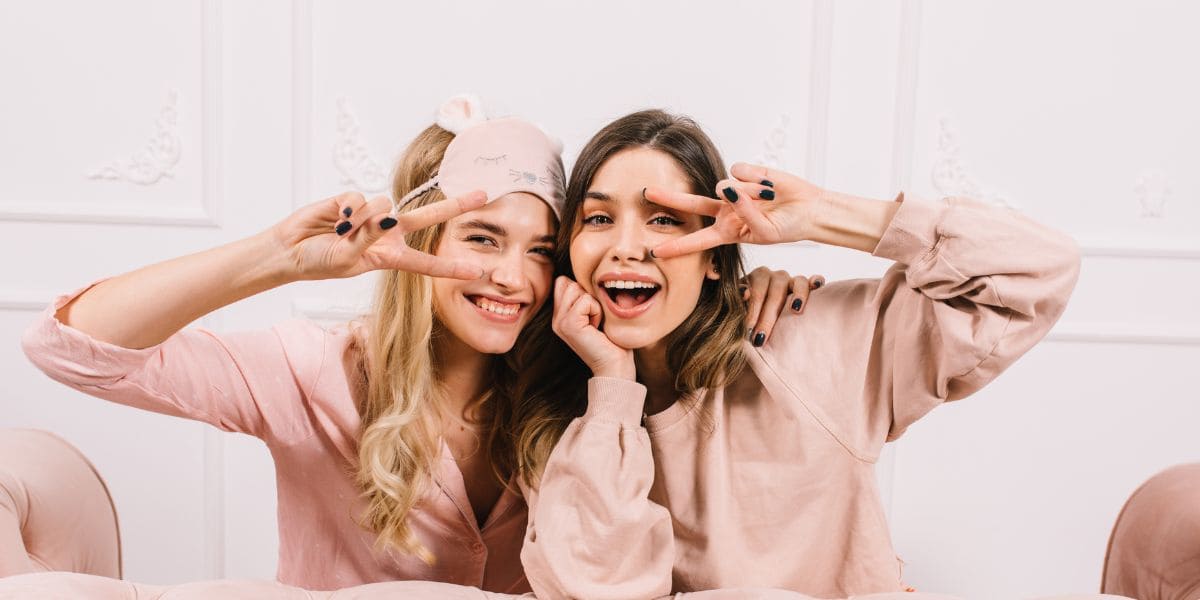 Hope you enjoy the blog post. I have shared ideas that I used at my pyjama party hope you liked it.
If you have a budget you can plan many things.
If don't have that much money there are still ideas that I shared above that you will like it. So check out again.
The main point is having fun that's all that matter so enjoy the party and sleep happily.
You may also like to read: