Normally we don't think in otherwise but just use to have a message conversation or for phone calls but how about playing some whatsapp dare games that probably will not required any much preparation.
If you have couple of crazy and hyped up friends who are always ready and upfront in showing their interest to participate in any such events, party games and fun gatherings, then it will be perfect for you to try it with them.
There will be interesting games, and some include a kinda challenge which you can throw it up to your friends, to craft a memorable day out.
So, without any further ado let's dive in
Whatsapp Dare Games
One of the first challenges or dares that you can probably throw up to your friend is ask them to share one of their secrets and put it on the status.
Make sure the secrets are actually the one that can counted as a secret and nothing are made up as a story or nothing should be presented as a fake one.
By sharing the secret the other people in the contact list should be well awared of this notification status and so none can be blocked by any such messages.
I Saw Your Daughter
This one is actually a fun you can probably ask your friend to do along with any of the contact list they know has their guardians or they might have their friends parent contact numbers.
So they can play it along with them now all you have to do is ask them to make a contact with any of the parent and play a fun made up prank.
Prank note – "I saw your daughter with someone and in so and so place"
and let the fun begin.
Make 5 Crazy Faces
If you believe that you have a such a friend circle or a such a person in your contact list who can entertain the wide audience in as crazy manner as it can possibly take up from their side, then this one is actually a fun dare to give them.
Ask them to record a 10 – 15 second video where they are making crazy and annoying faces by which someone should go beyond laugh or potentially give them a reasons to smile.
If they manages to make such entertaining short clip and upload it on their status and you as a referee to decide whether they have actually pass the dare or not can clarify with the end output.
But if they have not, get ready with your punishment sort of list.
I Feel Like Emoji
Now this dare is probably a message and can be made to a very personal level, where you and your friends are chatting and suddenly you are planning to play a fun and but interesting dare game,
So that all can have a time pass but a very good time along together.
If you have a group where there are more number of people and more number of people are interested in participating with dare game challenge,
Than the remember the excitement and the end result of craziness will be to no matchable zones.
For the dare:
1. 🍅
2. 🥔
3. 🥕
4 . 🍆
5. 🥒
6. 🌶
7. 🎃
8. 🥦
As a host you have to pass on this number list to the group but don't disclose vegetable emoji upfront as it is the most fun and important part of this dare.
Just pass on the numbers and ask the  members to choose any number from 1 to 8 and ask them if they choose any number then they have to make one sentence that is slightly attributed to their desire to do with their love partner or their hidden will to say it to them.
Example: If any members (a guy in this case) chooses, number 1 and that is Tomato, that will member will make short video holding a tomato in his hand, needs to pass on one cheesy line for his partner.
Something like – 'I wish I could get much more juice from you as a Tomato'
Believe me or not but it will turn to be a crazy and wild dare in the end.
Call 20th Person In The List
This one is very simple all you have to do is ask your friend to open up their contact list and from the 20th Number, exactly the 20th number call up to that friend or anyone who is there on the number 20 and just say that 'I miss you'.
Now just imagine, if someone is having on the number 20 their 'Ex' or their 'School Teacher' or any person which this dare could turn up to exiting fun but this totally depend upon the contact list of the person.
Nothing much fun to experience in this dare and sometimes can end up to a very boring one but sometime it can turn up to a very interesting one.
More or less, with having no such idea, it is always better to try some non-sense idea just to move you from inside and turn your mood the other way round.
Message Shit About Someone
This idea is crazy and giving out a very straight disclaimer upfront  that this idea can turn out to a very disappointing and very intense at such moment so please take the responsebility of self completely.
For the dare to begin all you have to ask your friend is to message about someone whom you both know very well or you have one common friend.
So, let's say if you and your friend knows about John then your other friend (who is going to take this dare challenge) to talk about John some shitty things like absolutely crazy and some made up fake stories.
That can lead out that your other friend is not liking John in person and is totally against John and he has so much hate for John.
After all that stuff is done all you have to do his take the screenshot of that chat, all the messages and you have to send it to John, now let John do whatever he can do.
Trust me after sending such messages to John, the craziness and atmost brawl between all three of you can heat up to extreme levels.
Now remember you know this is a prank or a dare from challenge that you decided to play along with the friend and later on just hand up on a nice note so that everything is sorted and no once feeling is hurt.
Sing With A Dustbinophone
By the title it is very clear and that is nothing much to explain here, all you have to do is ask your friend to take a dustbin and record a video of them singing any song out loud as crazy and funnier manner as they can and put it on the WhatsApp status.
Let the trash sing with a trash and let people to comment hilarious and outburst their inner thoughts with this idea.
WhatsApp Dare Games For Lovers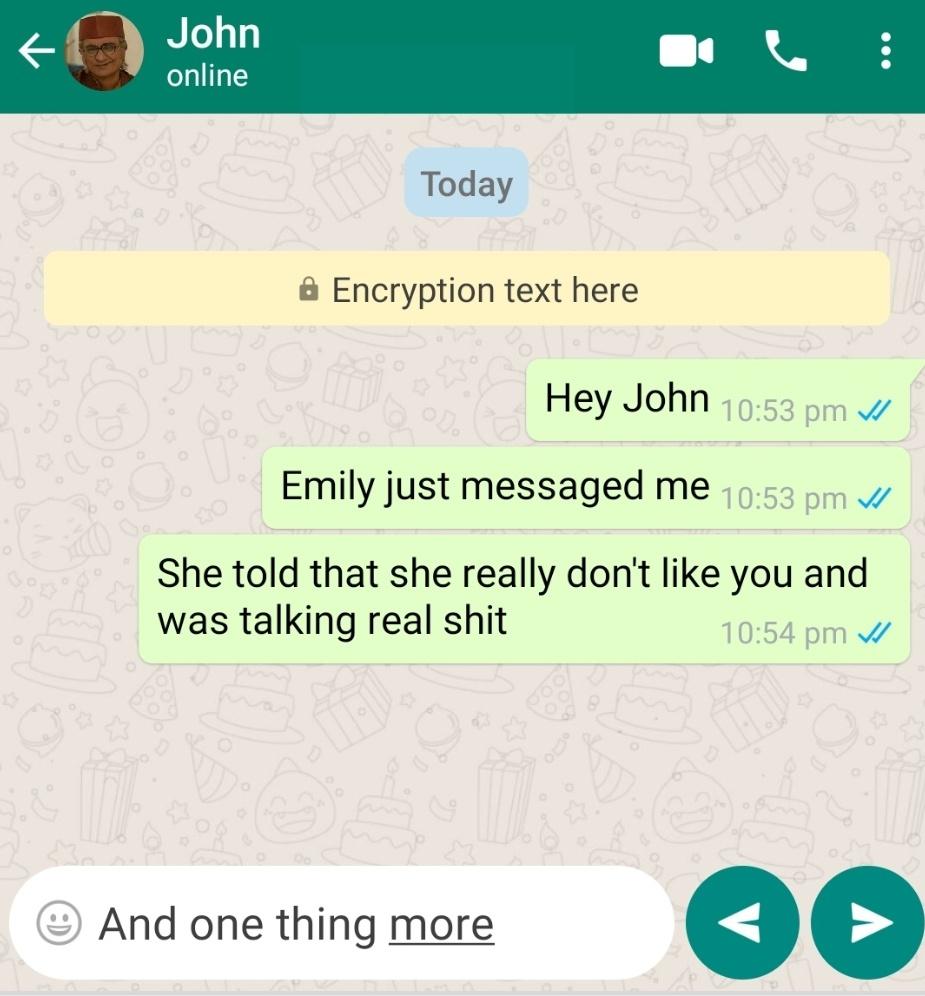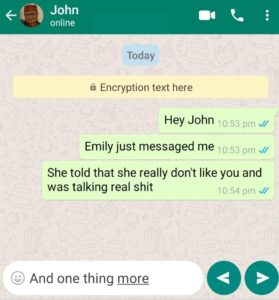 Almost in every love, although it is very personal and one of the secret to keep along with self of such moments in life.
But this is what the dare is all about.
If you believe that your partner is very shy and not very interest in taking such open dare and challenges and especially if it is publicly then what a heat and spicy moment it can create for both of you.
For the dare:
Ask your partner, to share one of the most exotic pic of both you and this can be anything like kissing, hugging in a bed naked closely and just literally anything but should look absolute romantic one.
Just check out if your partner can share personal stuff along with others.
Pick A Number & Post
This one is just a numbers game and what listed below is just a basic idea either you can use them as it is or you can just get an idea of what else things you can include in this dare list, to make it complete fun overall.
For the dare:
1. I'm a big loser
2. Eat 5 slice of cheese together without making any face
3. Block your partner for 24 hours
4. I love my X and Y Teacher
5. I will punch down your father
6. Last night I was out with someone else
Now remember, this isn't just a normal image posting dare but by going through titles you can  get a better idea that this are actual challenge and later you have to add on your own brain to make it real successful.
Hollywood Actors Fake News
The next WhatsApp there challenge again that you probably can play along with your partner is fake Hollywood star news.
For this dare to happen in real all you need a sudden mock up app, have just an act from the accounts of Hollywood star and send a message just to your partner just to create a spicy moment between you both.
Start a conversation in a mockup app with any famous celeb and lead the conversation to kinda flirty and cheating type that potentially will could divert your partner mind away and will leave them a reason to have a doubt on you.
Now, this idea will not work as easy as it would for a normal people. (Not comparing anyone).
But if you tend to be a public figure and if a large number of people knows you very well.
After the fake chat is made up, all you have to do is send those screenshot or capture a pic and upload it on your status mentioning your partner.
Pen Tattooed My Name
This will not be a normal writing from a pen and just posting on WhatsApp.
But let's change the game and add some interesting and beyond thinking element to bring out best fun from this dare.
For the dare:
Ask your partner to write down your name but not over hands but to a body parts. By body part I mean to a sexy body part by looking at, it can make your day.
Let this to be personal and have this dare to be done in your personal chat messages.
With You I'am
To have more fun, this idea will be more better if you have groups of couple at one place.
You can do it along with your partner but at the end it won't bring much fun and some joy from it.
But anyhow if you have a group where each and everyone has their partner and somewhere you share good friendship among with everyone, then you can think to consider to throw up this dare challenge with them.
For the dare:
❤ – 🍆
❤❤ – 👼
❤❤❤ – 😇
❤❤❤❤ – 🧞‍♂️
❤❤❤❤❤ -💩
❤❤❤❤❤❤ – 🐀
Share this above heart emojis in a line but don't disclose the other emoji in front of the heart emoji.
Let the other member in a group to select any number of hearts.
But remember, for a couple only one person will take up this dare.
Once the number is chosen and let say if anyone decides to choose 5 hearts and in front of this is 'poop' emoji.
So, the upcoming sentence would be – 'With you I'm poop' and add on the sentence to literally crazy levels that would initiate some sort of arguments.
Do remember our intentions should not be for creating any fights between the couple but it is just for fun.
Something To Confess
By the name it is very clear and be alert being in relationship it can add up a potential threat to just some disappointment.
Write a short note or a message that describes your confession in clear and concise manner.
By the end of this dare you will be amazed by the spicy and hidden and dark side of your partner that has never been revealed to you.
Why Don't I Have Money
Just name out and show some visual onto why you don't have money in real sense.
But this should be just as normal but make it more relateable with your partner.
Make sure you share the things that your partner uses the most and just by your side it decreases all the pennies and all the cash from your bank just because of such a small act or on to a particular thing.
WhatsApp Dare Games With Answers
Choose Your Fate
All such dare will truly bring you trouble or sometime good things but that depends upon on how good is your luck and destiny is.
Answers
1. I will switched off my phone for 24 hrs
2. One piece and go out on a street
3. Send Image after every 5 minute for a day
4. Security guard of the building for a day
5. Live on $20 for 24 hrs
Ask your friend to choose a number from 1 to 5 and let's see what is their fate for the day and be very mindful and strict checking up whether they are actually following the rules and taking the dare overall seriously.

Remember, only for Dare# 1 in this list, where the person needs to put their phone off, this alone idea will be much more applicable if you are passing it to your roommate or to your family member, where tracking to them will be easier for you.
Messed Up With Things
Now dare usually comes along with the things that you need to take up just to showcase courageous and brave inner character of yourself and so does this probably do if you tend to throw it up against your friend.
Answers
a.) Cut your sister clothes into half
b.) Put a sudden cream platter to your mom face and post
c.) Tell your parent that you failed in your school
d.) Show a big fat bill of your online shopping to your parent
e.) Scream like crazy out to your neighbor
Ask your friend to choose from the alphabet A To E and just let what must they have to do things for the day and make sure that you give a very strong disclaimer that this would bring out some intense trouble and sometime a very harsh words from the parents.
As most of the dare that are listed here are related to the family so if the family members are not tolerate that enough and not likeable to accept such type of games,
Then there would be much more hilarious and much more crazy moment that can be captured and be posted on WhatsApp or can be shared along with you.
Choose Your Fav Emoji
When we are using WhatsApp and having a conversation with our friends, family or to anyone the most common and most shared things in the chat options are the Emojis.
Especially if the things comes for girls, then such acts are much more noticeable in their chat sections and much more frequent when it is done between girl and girl.
❤
⛔
🏃‍♂️
🏡
😍
🤗
😎
🤯
🤐
🥶
🤓
These above are the list of emojis we are going to use for this dare challenge.
Answers:
❤ – Destroy one gift that was given by your partner
⛔ – Drink 6 glass of water non-stop
🏃‍♂️ – Head upto gym and go on max speed on treadmill for 2 minutes
🏡 – Hide your parents pillow or blanket at backyard
😍 – Share most loved moment between you and your partner
🤗 – Hug a teddy bear and go out for a walk in the same position
😎 – Capture all different and types of shades you have in your house
🤯 – Shared one thing which no one could believe at first place but it is actually true
🤐 – Mention one person who needs to keep shut
🥶 – Speak out some coldest thing to your friend and share on status
🤓 – Tag your teacher and mentioned that you hate their subject.
Let The Color Spoil You (Parents, Friends & Teachers Prank)
In childhood we all played color, color which color do you want…. that was just very childish but was good to play at that time along with close buddies.
In this dare game we will be using the same concept but will be adding a sort of dares and challenges to it to bring out more interest for others as well.
Answers:
🔴 – Call to a psychiatrist and ask for help to Absoultely very small thing and record the call (audio one)
🔵 – Dress yourself in a complete blue attire
🔶️ – Go to a grocery store and just shop every orange items and click a photo of it
💚 – Serve to community
◾ – Dark out your house completely multiple times to set up a horror moment
Good & Kind Act
What about playing a game or a challenge and it totally helps out a good and couple of people in most beautiful and humanly manner.
If you believe that you have something extra and it can be shared with the other person, then do initate such act.
But for the purpose of this dare less but kind challenge
Answers:
1. Give out $50 to the first person say YES when you ask for a help
2. Give out $100 to the kid when they answered all the general questions correctly of their level
3. Get a meal for a homeless person
4. Pay the bill for the person in front of you at the store
5. Ask a stranger to choose from 1 to 100 and give them the money as number they have chosen.
Final Words
That's it pretty much from the WhatsApp dare games that you can consider to play along with your friends. Either you can ask for photos, clips or audio note in order to cross-check in whether the dare was completed or not.
Recommended Article:
15 Fun Games To Play On Facetime
Tiktok Best Party Games To Play With Friends