What is the best birthday party theme for a kid with a broken arm?
Is it a circus party or a sports party? Can you make a birthday party for a kid with a broken arm with different themes?
These questions are always there in your mind when you want to throw a birthday party for your kid, but you don't know how to go for a party theme for kids with broken arms.
For sure, you must have come across many different birthday party ideas and if you are looking for some new ideas then I am sure you will be happy to read this article.
10 Fun Birthday Party Ideas For Kid With Broken Arm
We all have kids who are having broken arms or sometimes even they are not in a position to move their arms, so this is a big problem.
There is nothing wrong with this as these kids will have fun in a way.
Planning a birthday party for a kid with a broken arm requires some creativity and consideration of their limitations.
If you are wondering about some cool party themes for kids with broken arms, here are the 10 best themes.
Believe me, these party ideas for your kids are fun and safe. Also, I have added some additional instructions and considerations for each party theme to enhance the experience and ensure safety.
Themed Movie Day
A Movie Day is a perfect party theme for any kid's birthday.
All you need is a movie projector and a DVD player.
Organize a movie based on the birthday child's favorite theme or movies.
Create a cozy movie area with pillows and blankets, and play a series of their favorite films throughout the day.
Serve popcorn, snacks, and refreshments.
Here are some movies that are appropriate for kids:
Spiderman – For children aged 3 to 6 years old.
Toy Story – For children aged 7 to 10 years old.
The Lion King – For children aged 7 to 11 years old.
Shrek – For children aged 8 to 12 years old.
Frozen – For children aged 5 to 11 years old.
Frozen II – For children aged 7 to 13 years old.
Required Tools
Arrangement Ideas
Safety Measures
– TV or projector
– Blankets and pillows
– Movies and snacks
Create a cozy movie area with cushions and blankets. Prepare the chosen movies and arrange comfortable seating.
Ensure that the seating area is safe and soft. Supervise movie choices to be age-appropriate.
Additional instructions and considerations:
Test the equipment (TV or projector) beforehand to ensure it's working properly.
Provide a variety of movie options to cater to different tastes.
Have extra blankets and cushions available for added comfort.
Ensure that the room is dimly lit to create a cozy movie theater ambiance.
Art and Craft Party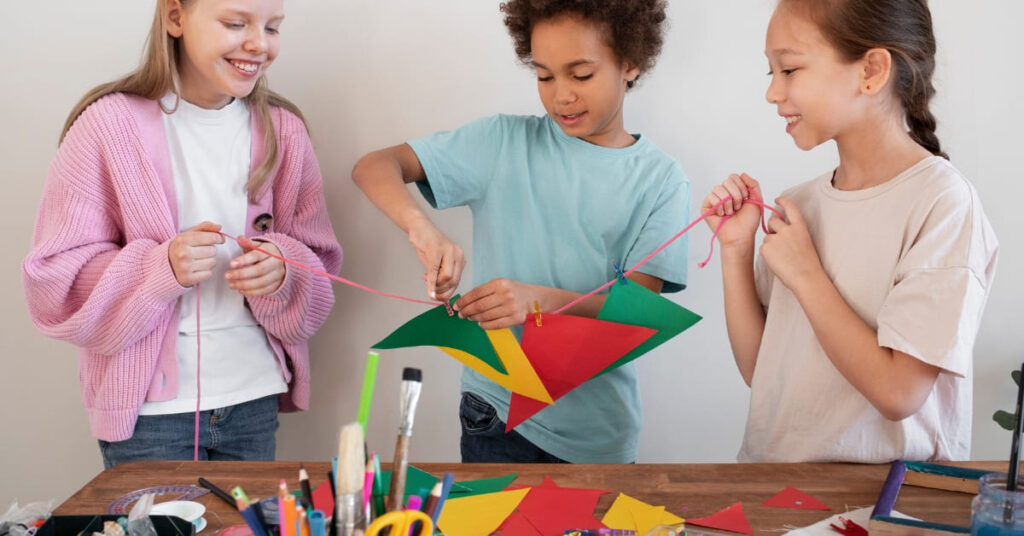 Host an artsy party where kids can engage in various art and craft activities that don't require the use of both arms.
This is one of the best creative birthday ideas for a child with limited mobility.
Invite the kids to choose a favorite picture from a collection of pictures. Then, have them paint their picture using crayons or markers.
Provide materials for drawing, painting, and crafting, or consider activities like finger painting and clay modeling.
The first time we held this event, we had a room of about 40 kids, ranging in age from 3 to 12, and they all had fun and made some great works of art. It was an instant success!
Arrange to seat comfortably and watch as the kids' creativity comes alive!
| Required Tools | Arrangement Ideas | Safety Measures |
| --- | --- | --- |
| – Art supplies (paper, paint, markers, etc.) | Set up different art stations with various supplies. Encourage kids to create their own masterpieces. | Provide aprons to protect clothes from paint. Ensure art supplies are non-toxic and safe. |
Additional instructions and considerations:
Have clear instructions for each art activity displayed at the stations.
Offer a mix of easy and more challenging crafts to accommodate different skill levels.
Lay down protective covers or tablecloths to prevent messes.
Prepare hand wipes or a washing station for easy cleanup afterward.
Board Game Bonanza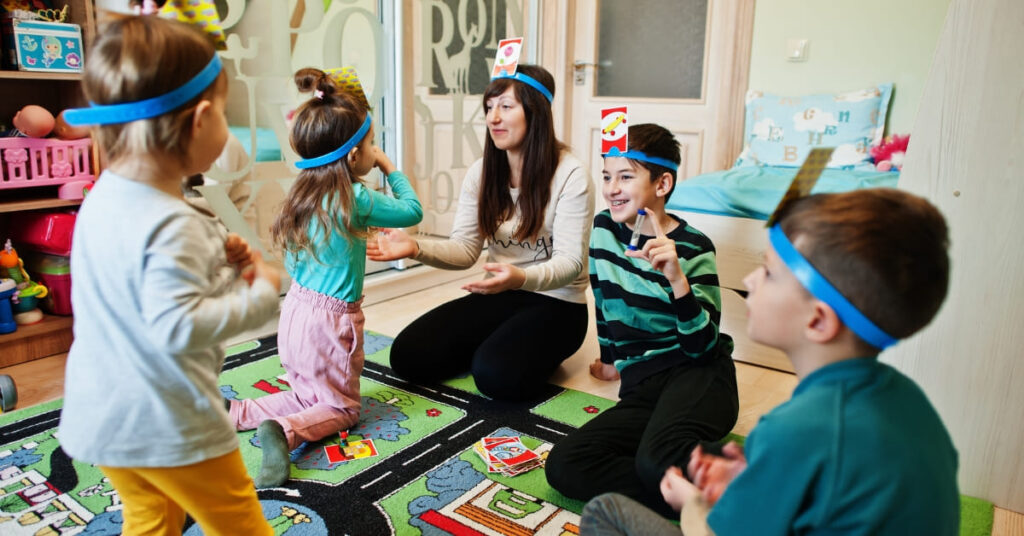 A board game is a great family event that will be sure to entertain and stimulate kids of all ages.
Set up a board game party with a variety of fun board games that the children can play together.
This thoughtful approach ensures that every child, including those with arm injuries, can fully participate and have a blast.
Choose games that can be played with one hand, and encourage teamwork and friendly competition.
| Required Tools | Arrangement Ideas | Safety Measures |
| --- | --- | --- |
| – Selection of board games | Set up tables with board games for group play. Rotate games for variety. Encourage fair play and teamwork. | Ensure that game pieces are manageable with one hand. Prevent small game pieces from being swallowed. |
Additional instructions and considerations:
Have a designated game master to explain rules and oversee game sessions.
Choose games that are not overly competitive and emphasize teamwork.
Prepare a timer or set specific rounds to keep the games moving smoothly.
Be ready with tie-breaker rules for friendly disputes.
Storytelling Session
Arrange a storytelling session with a storyteller or read aloud some entertaining books for the kids.
This activity can be both fun and relaxing, and the kids can use their imagination to visualize the stories.
This can serve as excellent party entertainment for kids with broken arms, offering them a chance to immerse themselves in the magic of tales while they recover.
So, let's gather around, listen attentively, and embark on a journey through these wonderful stories together.
| Required Tools | Arrangement Ideas | Safety Measures |
| --- | --- | --- |
| – Storybooks or storyteller | Create a comfortable reading book with cushions. Engage the kids in interactive storytelling sessions. | Have a well-lit area to avoid eye strain. Encourage attentive listening and participation. |
Additional instructions and considerations:
Choose a variety of engaging and age-appropriate stories.
Encourage kids to share their interpretations of the stories after the reading.
Use props or visual aids to enhance the storytelling experience.
Provide comfortable seating options to ensure kids are relaxed and focused.
Puppet Show Theme Party
Create a puppet show for the kids to enjoy.
With a variety of puppets and characters, these kid-friendly party ideas for a child with a cast can be tailored to any theme and educational focus.
You can prepare a simple storyline, and parents or older siblings can help the birthday child with puppetry using one hand while they narrate the story.
| Required Tools | Arrangement Ideas | Safety Measures |
| --- | --- | --- |
| – Homemade puppets or puppets with strings | Set up a puppet theater area with a backdrop. Parents or helpers operate puppets while the birthday child narrates. | Ensure strings or puppetry tools are safe and free from entanglement hazards. |
Additional instructions and considerations:
Practice puppetry before the party to ensure smooth storytelling.
Create a backdrop that matches the story's setting to enhance the visual appeal.
Encourage the birthday child to engage with the puppeteers, creating an interactive experience.
Test the puppetry tools to ensure they are secure and easy to operate.
Outdoor Picnic
If the weather permits and the child is comfortable being outside, consider a picnic in a park.
Serve refreshments outdoors, preferably at a picnic table with seating. Consider setting the stage by the picnic table.
Keep the food and activities simple, and encourage socializing and play in a relaxed setting.
| Required Tools | Arrangement Ideas | Safety Measures |
| --- | --- | --- |
| – Picnic food and blankets | Choose a park or backyard with soft grass. Set up a picnic area with blankets, cushions, and simple food. | Check for allergies and provide allergy-free food options. Keep a close eye on outdoor activities. |
Additional instructions and considerations:
Have a backup plan in case of bad weather.
Offer a mix of finger foods and easily portable snacks.
Provide sunscreen and hats to protect kids from the sun.
Arrange seating in shaded areas to prevent overheating.
Related articles:
19 Fun Places To Go With a Broken Arm [Safe & Adventurous]
Virtual Party
If the child's condition limits their ability to have a physical gathering, you can organize a virtual birthday party.
Host a video call with friends and family, play games, and enjoy virtual activities together.
| Required Tools | Arrangement Ideas | Safety Measures |
| --- | --- | --- |
| – Video conferencing platform | Set up a virtual meeting and share the link with guests. Plan virtual games, activities, and a digital cake-cutting. | Ensure a safe and secure online environment for the kids. Monitor online interactions closely. |
Additional instructions and considerations:
Share clear guidelines for using the video conferencing platform.
Test the technology and ensure a stable internet connection.
Plan engaging virtual games or activities to keep kids entertained.
Assign a moderator to guide the virtual actions and maintain order.
Baking or Decorating Treats
Plan a baking or cupcake decorating session where the kids can create their own tasty treats.
Provide pre-baked cupcakes or cookies and various toppings for them to use.
| Required Tools | Arrangement Ideas | Safety Measures |
| --- | --- | --- |
| – Pre-baked treats and toppings | Arrange baking or decorating stations with treats and toppings. Let kids create their own delicious creations. | Provide utensils that are easy to use with one hand. Be cautious with hot surfaces and ingredients. |
Additional instructions and considerations:
Pre-prepare some treats to showcase as examples.
Ensure toppings and decorations are easily manageable with one hand.
Have adult assistance available for tasks that may require more coordination.
Consider any food allergies or restrictions of the guests.
Magical Treasure Hunt
Organize a treasure hunt with clues that lead to small prizes hidden around the house or backyard.
Make it a magical adventure where the kids can embark on a journey to find hidden treasure.
| Required Tools | Arrangement Ideas | Safety Measures |
| --- | --- | --- |
| – Clues and small prizes | Create clues leading to hidden treasures around the house or yard. Design the hunt to be exciting and magical. | Ensure clues and hiding spots are safe and age-appropriate. Keep an eye on kids during the treasure hunt. |
Additional instructions and considerations:
Hide treasures in safe and accessible locations.
Keep the clues simple and age-appropriate to prevent frustration.
Have a small prize for each child, even if they don't find the main treasure.
Provide a map or guide for parents or helpers to follow along.
Superhero Training Camp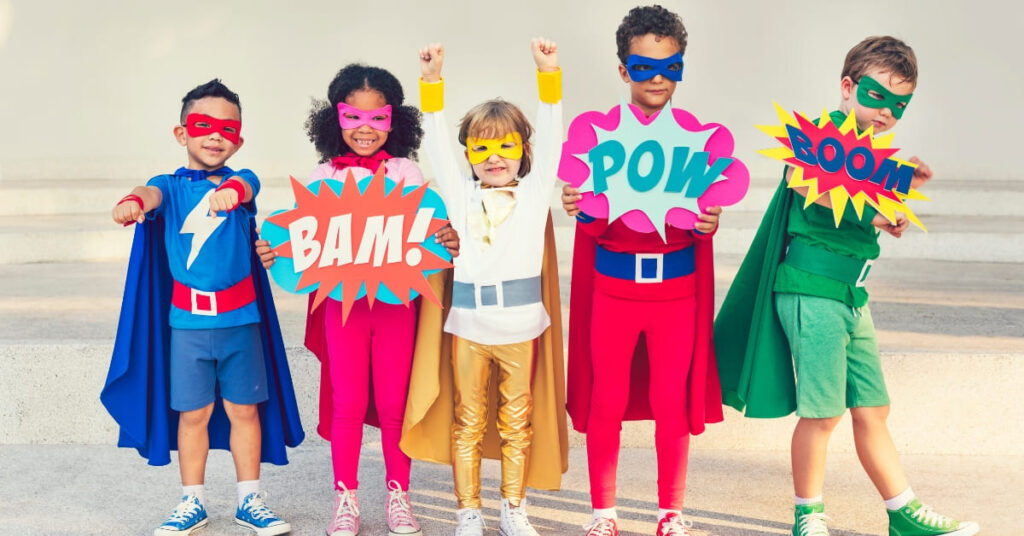 If the birthday child is a fan of superheroes, host a "Superhero Training Camp" with simple activities they can participate in using one hand.
Set up an obstacle course, have them make superhero masks, and play fun superhero-themed games.
Required Tools
Arrangement Ideas
Safety Measures
– Obstacle course materials
– Craft supplies for masks
Set up an obstacle course, craft station for masks, and fun superhero-themed activities.
Ensure the obstacle course is safe and appropriate for kids' abilities. Use safe craft materials.
Additional instructions and considerations:
Set up a clear start and finish line for the obstacle course.
Assign a "Superhero Mentor" to guide kids through the training.
Ensure all craft materials are non-toxic and suitable for kids.
Incorporate breaks and hydration to prevent fatigue.
Child With a Broken Arm Birthday Invitation Wordings W/ an Example
Birthday parties are all about joy, laughter, and making cherished memories.
However, when your child faces a little bump along the way – like a broken arm – it doesn't mean the party is over.
In fact, it can be an opportunity to turn adversity into an unforgettable celebration.
To help you through this unique situation, I've curated an example of a child with a broken arm birthday invitation wording that will uplift spirits and set the tone for an extraordinary event.
🎉 Join Us to Celebrate [Child's Name]'s Birthday Bash! 🎈
Hello friends and family,
We hope this message finds you well! Despite a little difficulty, [Child's Name] is still excited to celebrate their birthday in style. We're hosting a fantastic birthday party to mark this special day and we'd be thrilled if you could join us!
🎈 Date: [Date]
🎈 Time: [Time]
🎈 Venue: [Venue]
🎈 RSVP: [RSVP Details]
Though [Child's Name] might have a broken arm, they're not letting that stop the fun! Let's come together, sign their cast, and fill the day with laughter, games, and memories. We'll have plenty of exciting activities planned that will keep the excitement high and the spirits even higher.
Please make sure to bring your smiles, your positive vibes, and your warm wishes to make [Child's Name]'s day extra special. Gifts are optional, as your presence is truly the best present.
Let's make this a birthday to remember and show [Child's Name] that a little broken arm can't stop the party spirit! We can't wait to celebrate with you all.
See you there!
Best regards, [Your Name]
P.S. In consideration of [Child's Name]'s recovery, we kindly ask that you avoid any rough games or activities that might cause further discomfort. Thank you for your understanding!
The wording in these invitations focuses on turning a challenging situation into a positive and memorable celebration for your child's birthday.
It conveys the idea that even with a broken arm, the party will be full of joy, laughter, and special moments.
The invitation includes important information such as the date, time, and location of the party, as well as a request for RSVP by a certain date.
It also answers common questions parents might have, like whether gifts are still appropriate and if there will be suitable games for all children to enjoy.
How Do You Entertain a Child With a Broken Arm? 5 Fun Game Ideas
I know that the situation of a kid with a broken arm is challenging, but we have to face it and make the best of it.
So, here are some fun ideas that you can try for a perfect birthday party for kids with broken arms.
These games will not just entertain them but will also make their birthday memorable.
1. Balloon Surprise Game
The idea of the first theme is that it will give some amazing surprises to the kids.
So, you have to create some balloons that will be tied to their arms and they will be surprised to see it.
They will have to untie the balloon and they will get a gift from it.
2. The Special Outfit Game
The second idea is that you can make a party for the kids and you can invite their parents and grandparents.
The kids will get dressed and put on a special outfit that you will pick.
And on the party night, you will invite their parents and grandparents to watch the party.
3. Taste The Food Game
The third idea is that you can make a food-tasting party for the kids.
You will have to take some small foods like chips, chocolates, sweets, etc. and you will have to serve them to the kids.
The kids will be very excited to taste the food and they will ask their parents for more.
4. The Puzzle Game
The fourth idea is that you can make a puzzle game for the kids.
You will have to make a puzzle and you will make a frame with a picture of the kid.
And the kids will have to solve the puzzle by touching the frame.
5. Photo Booth Session
The fifth idea is that you can make a photo booth for the kids.
You will have to make a photo booth and you will make the kids take a selfie with their friends.
Related article:
45 Activities For a Child With a Broken Arm To Cheer Them Up
Frequently Asked Questions
Is it possible to have engaging activities with a broken arm?
Absolutely! Each theme is carefully designed to ensure kids can participate in engaging activities without putting strain on their broken arms. From treasure hunts to painting parties, there's something for everyone.
How can I ensure my child's safety during the party?
Safety is our top priority. Activities are chosen to be arm-friendly, and adult supervision is key. Discuss any concerns with the party venue and inform other parents about your child's injury.
What if some kids are uncomfortable participating?
Encourage a supportive atmosphere. Allow kids to choose activities they're comfortable with, and offer alternative options if needed. The goal is for everyone to have a great time!
Can we adapt these themes for indoor parties?
Absolutely! Many of these themes can be adapted for indoor spaces. You can create a magical world right in your living room or play area.
How can I make sure my child feels special despite the injury?
Highlight their resilience and bravery! Incorporate their interests into the chosen theme and ensure they have a role in planning the party. This will make them feel truly celebrated.
How do I handle RSVPs and dietary restrictions?
When sending out invitations, include a note about your child's broken arm and any dietary restrictions. This will help other parents prepare and ensure everyone has a delightful experience.
Also, check out this article:
55 Funny Things To Write On a Cast [Hilarious & Creative]
Conclusion
In the end, it's not about the challenges we face, but how we rise above them that truly matters.
Planning a birthday party for a child with a broken arm might seem like a daunting task, but with the right mix of creativity, compassion, and fun, you can turn it into a celebration that they'll cherish forever.
These 10 themes are more than just party ideas – they're opportunities to create lasting memories and show your child that their happiness knows no bounds, even with a cast on their arm.
So go ahead, pick a theme, sprinkle some magic, and watch as their eyes light up with joy.
After all, a little broken bone can't break the spirit of a fantastic birthday bash!
Recommended articles:
Outdoor Movie Party Ideas 2023: Setup, Food, Outfits & More
Fun Activities and Party Ideas – Unwrapping Smiles
How Long Does It Take For a Broken Bone To Heal?
How To Cheer Up a Kid With a Broken Arm [45 Ideas and Activities]