There can be different reasons for why you might need money and sometimes you have to think about yourself to get rid of the situation positively and for this, you might require some good excuse to ask for money.
When you are good at convincing someone about something then definitely by listening to your story the other person can easily trust you and he or she might assist you.
The idea is not to convey a story but it is more important that you make them that you are going through such a situation in real and you extremely need it.
So without any more delays let's get into
Excuses To Ask For Money [As a Student]
Need For School Project
One of the best and most genuine excuses you can get this situation in your favor is just simply relating it to the school work.
And a lot of things go around in school and one of the relatable things you can pitch to someone is by stating it to project work.
Project work includes many things like different preparation, the need for accessories, papers, study material, etc.,
And often this requires a good amount of money. Although the total amount would not be that huge for a student it may sound sensible.
For a Friend's Farewell
Being in a school or college for a long period many students do form a deep friendship and a deep closeness with one of their classmates.
And often during the course period, a certain group of classmates or friends do have a strong bonding with each other.
When a group of students believes that their particular member is leaving the school and shifting towards a new city and entering into a new school, such a group does love to give farewell to that member.
Thus organizing farewell events and arranging all relatable arrangements for this event often require a handsome amount.
The amount can be used for a different purpose like for the event itself, for food, gifts, and some other extra activities that can be included as a fun part.
Canteen Food
Bringing up the same lunch or snacks often lead to dissatisfaction among the student.
And if, there is a culture of social gathering in the break period and sharing the food, then having a better option gives away a completely different level of joy.
As a student, it is a very common and understandable need that may arise during a week or a month and such outside food craving has to deal with proper judgment.
Thus, simply asking money to have a break from homemade food/snacks and enjoy that part from the Canteen/Cafeteria would be a good option to have by side.
Sleepover Party
Among students, this rising theme party is taking a new edge and becoming a fun part to explore in early childhood.
As holding such a theme party, it does require different arrangements and for this, a small contribution of money from each side can make a good impact to the overall environment (party) and among the members that are involved.
Funding a theme certain activity or category can represent a self-realization of managing party expenses to well-equal terms.
Recommended Article:
Best Trampoline Sleepover Party Ideas To Try Out
Friend Is Not Well
One of the best excuses you can probably make to get easy money from parents by stating that your close or best friend is sick.
Although the purpose of getting money is not for a friend's treatment giving him away some nicer presents or gift cards that can cheer him up during the tough days can probably bring a smile to your friend's face.
Excuse To Ask For Money From Parents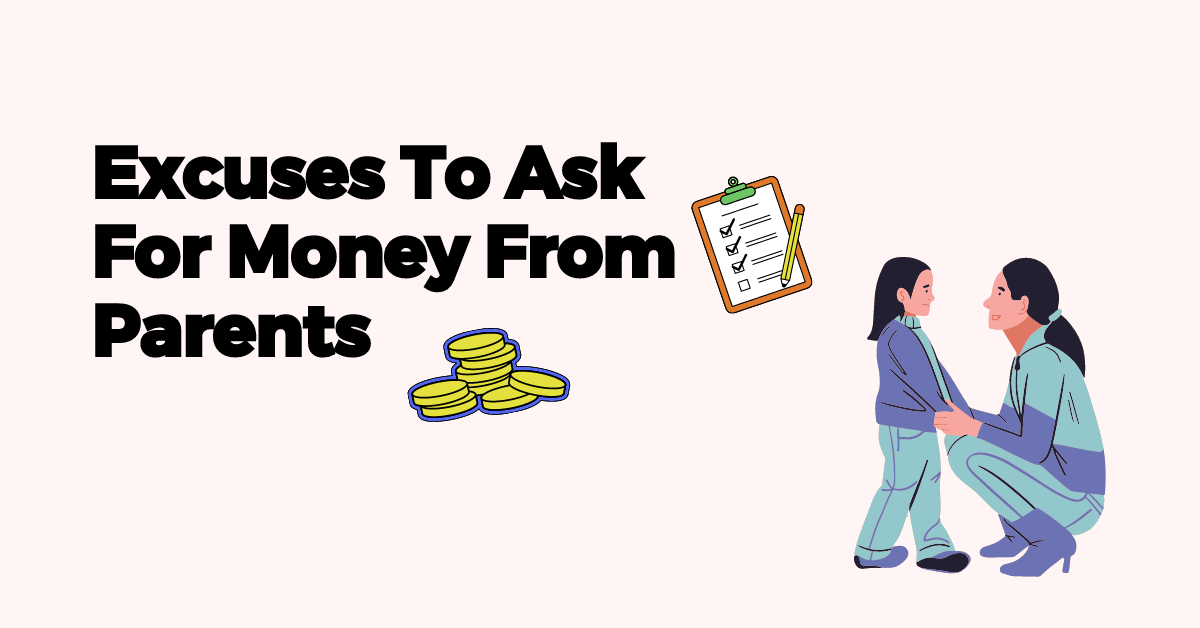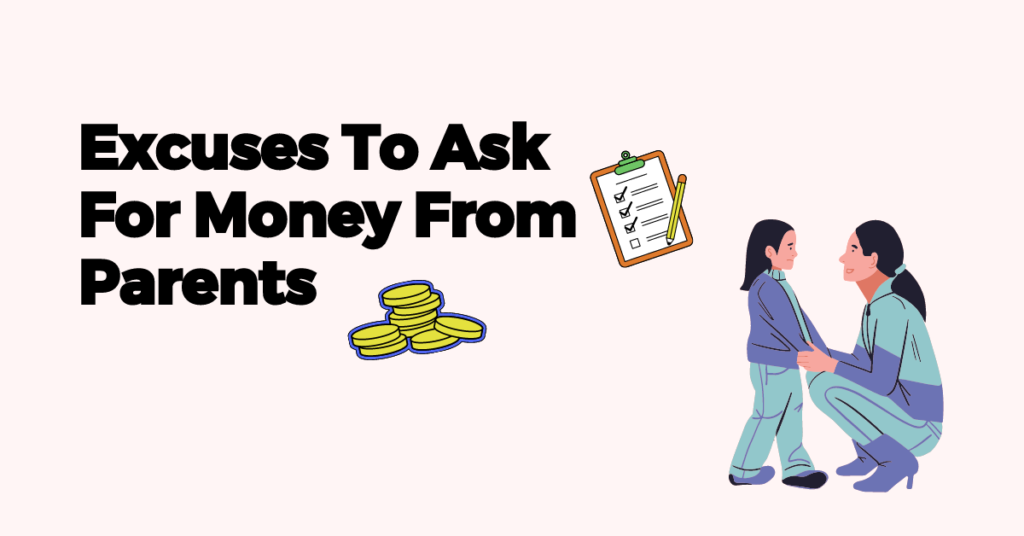 Lucky are those who live with and can ask for anything from their parents. It is one of the most joyous and caring natures of the parent and they feel closely attached when their child does ask for something which they need.
But in this case, will be covering some good excuses to get money from parents in every best possible scenario.
Let's quickly check out:
Need To Buy Sneaker For My Birthday –
Now, the Wishlist can be anything and it doesn't have to be just for shoes.
If you have your birthday week coming near, then this can work best for you.
Instead, if sneakers depend upon your need or want you can simply state – That you want 'X' for your birthday.
In most cases, a birthday is one of the life phases where every member and closed ones do treat you well and show much more love than usual.
Thus, finding money by using this situation should get you into any problem.
Visiting Grandmom/Granddad
Now, the conditions be different for every single individual but overall you can get a better idea of how to use this excuse.
If you are living separately from your Grandparents, then this can be best for you.
Visiting your Grandparents after a few weeks or months and going without any gifts or presents, doesn't seems good in any case.
If you can bring a smile to anyone's face, then every single action will be rewarded in some case to your life.
It can be anything, simple cash or some gifts which might make the day of your Grandmom/Grandfather, then it would be worth the decision.
My Phone Got Damage
This reason can be cheeky and if you are bounded towards ethical terms, then simply giving this reason might make you feel guilty.
But the idea here is to get money (not that huge amount). But anything that can make your day or give you some joy for the day to enjoy it.
To present this idea, you need to take care that your parent doesn't ask for your mobile to cross-check.
And if they do, you need to be well prepared you have something to show where it seems that your mobile is damaged in either some way.
The whole purpose is to get money by using the mobile phone reason and that can be of anything that relates to the case like – Mobile repair, battery repair, screen guard, etc.,
Need To Subscribe For Channels
If you are ever into television and have a routine where you certainly watches some of the shows which might include anime, cartoon, web series, etc.,
Then using such an excuse can be so good for you.
And especially, if you have parents that often have the same interest in watching some of the shows.
Subscribing to some other channels, where the quality version is improved or where you can explore similar shows that can make a good add-up to your show-watching schedules will make a good sound in front of your parents.
If the situation is not favoring you in this case, then you might have to go further next step and do some of the smart ways to get money.
You can explain to your parents, why you need to subscribe to such channels and how it can benefit you in the long term.
It can be for some good reasons like – You can about investment fields, business, career opportunities, creative writing, etc.,
Depending upon the shows that are featured on that channels, you can accordingly frame the benefits.
New School Accessories
If you are a student, then getting money that relates to school purposes can be easy to win situation for you.
The accessories can be different for different individuals.
But you got the point, right?
Sometimes, if you are heading to a higher class, then getting all Fresh & New school accessories items can sound so meaningful.
And no parents would probably ever say No to this.
Funny Excuses To Ask For Money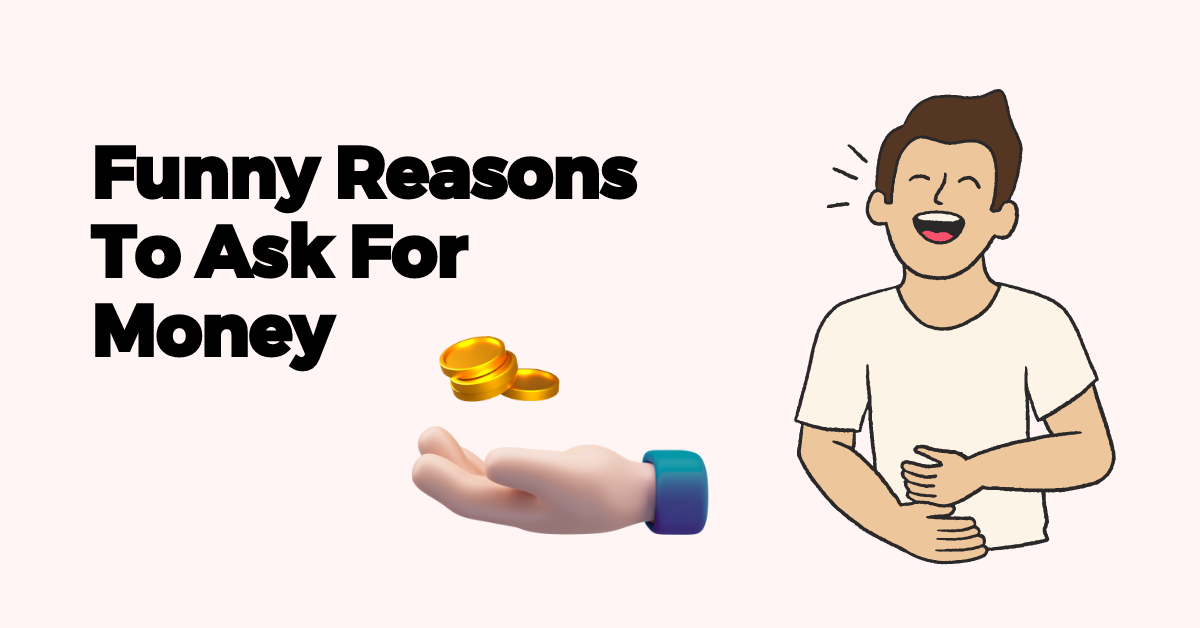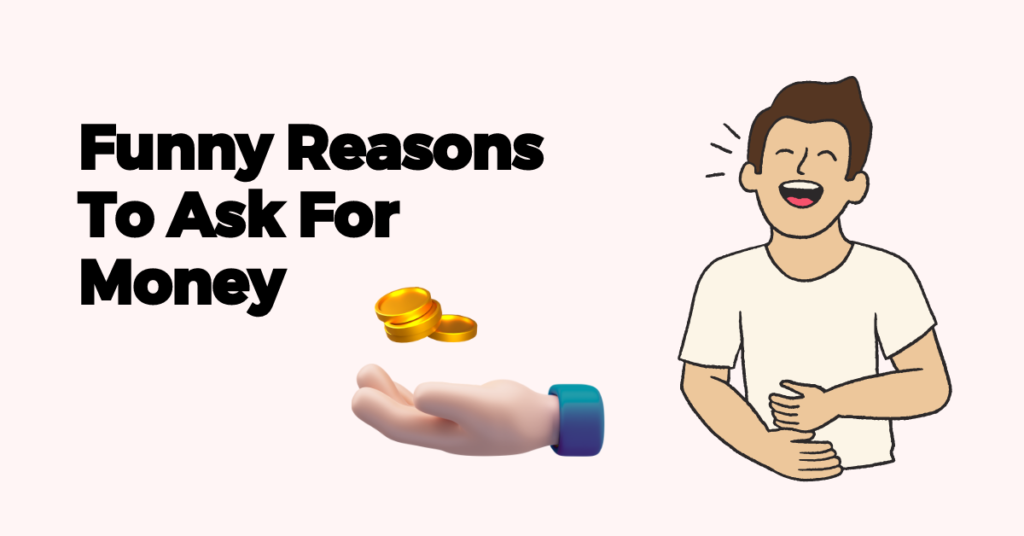 Sometimes your family members or even friends do act weird and pocket conscious and whenever you ask for money for any reason, then they do have some of the way to ignore or reject you.
But if you can act smart and pretend to be funny and make someone's day by translating some of the funny excuses,
Then this might turn the situation in your favor.
So without any delay let's check out the excuses:
My Jetspray Is Not Working
Whether you agree or not but one of the key elements that can't be ignored from one's day-to-day life (in sanitary aspects) is the jet spray.
And conveying the same reason to get money can be so promising and no one would like to reject it.
Now, it depends upon you how good are you at showcasing that you are in urgent need of it.
Rats Ate My Underwear
This is super hilarious and at times instantly no one would like to believe.
But if you are an open-minded person and doesn't shy to present it in an actual place, then this work for you.
All you have to do is just tear 3 to 4 holes in your underwear and it should not look like it is been done by a human touch but rather it is done by rats in real.
This reason might suit that person who has an open space or balance kinda stuff in their apartments/home where you hang your clothes to dry out.
So, creativity matters the most.
You can pass on this excuse and pretend that all your monthly budget is already used and you are left with no options and for this purpose, you are in real need of money.
In 25 Days I'll Give Double Money
This is a ridiculous idea to go with but sometimes you need to play with other people's intentions (not in a bad sense).
Now, do not use this reason always and it is best recommended to use it between friends and close ones who can understand you.
The main purpose of this excuse is just to place your friends in a position where they can expect something back in return.
But the reality is, they already knew that you are going to return the money anyway.
It's just the act that you portray in front of them.
My Cat Had A Fight In The Backseat
Sometimes having pets can be so hectic and managing another life aspect can be challenging.
And if you are having a pet – who is very furious when they are moved to a new place even for a small amount of time.
Cats do have some weird behavior and especially if they are put with some of their other cat friends, then definitely there are high chances that at some point they might be involved in cute cat fights.
And you can use this reason to get smart money.
You can portray something, because of their fight your car backseat is completely vanished and it does look good for other people to seat at the back.
And for the same reason you need money.
Wrong Use Of Diapers
Managing kids can be so frustrating if you are not experienced with this kind of stuff and so does this reason can be so convincing at its point.
You can play the story that in your leisure time you had gone to your neighbor and all of a sudden they ask you to manage the baby for some time and in between a need to change the diaper of the baby had arrived and you accidentally use the diaper in the wrong manner.
And the baby had pooped in the living room/surface.
Now the parents are very angry and they need money for the diapers, although the amount may not look very big the idea is to get funny excuses.
Recommended Article:
Good Reasons To Ask For Money
Need To Buy An Old Man Stick
This can show a very caring nature of you and you can ask your friends to contribute in this good cause.
Having a neighbor where they lived an old couple and helping them by any means can be so respectful and kind.
And if you are living on a budget,
then sometimes taking out extra money for such a neighbor can be so stressful and thus, you can convey this reason to your close buddy and get the money.
Don't forget to give the old man that sticks (walking) too.
Rent Pay Period
If you are a working professional, then using such a reason can be super easy and most of the time, you will get the money for sure.
You can ask the person that your salary is not credited yet and it will take some time to reflect in the bank account,
And your House owner is not dealing with things with patience and you are urgent need of money.
When you assure someone, that you will return the money, then probably no one will hesitate in helping you in such conditions.
So get the money, pass it on to your house owner, and chill.
Unpaid Taxes
Taxes and legal things can be so stressful in an individual's life and no one wants to get in any point of trouble.
Therefore having the best CA to do such taxation for the year can take away a big load of tension from your head.
But sometimes, managing heavy files of income sheet and doing all that accounting stuff can be so challenging even for CA's.
Thus, human error is quite normal.
And you can use the same reason.
Getting the CA's fees and the remaining unpaid taxes amount can attract good attention from others to help you out in some sorts.
My Braces Are Off The Mark
For someone who is undergoing any dental treatment, they know how important is to take care of their teeth overall.
And especially if you are having a tooth alignment process, then managing braces can be annoying at some times.
And dental expenses are not that easy to bare with.
Giving a solid reason related to your braces – that they are outfitted and somewhat broken from the inside, can help you get concern from others.
And indeed you do not want to go out with any such hilarious face.
Thus, getting new braces & carrying on the dental treatment with ease can be the best reason to try out.
Conclusion
By the end of this article, I hope you might have collected some of the best & working excuses to ask for money and all such scenarios depends upon your story lineup and how good are you to convince others.