When you are in a relationship and you love to do fun activities along with your partner then playing some of the games along with the bets can be one of the interesting means to try out.
With this detailed article, I'll try to cover some of the romantic punishment ideas that you can probably list before starting any of the games or the bets that you would like to go on.
The idea of this punishment idea is just to create a fun environment and with the overall theme, you can probably get closer to your partner in a very unique manner.
So, without any further ado let's dive in,
Romantic Punishment Ideas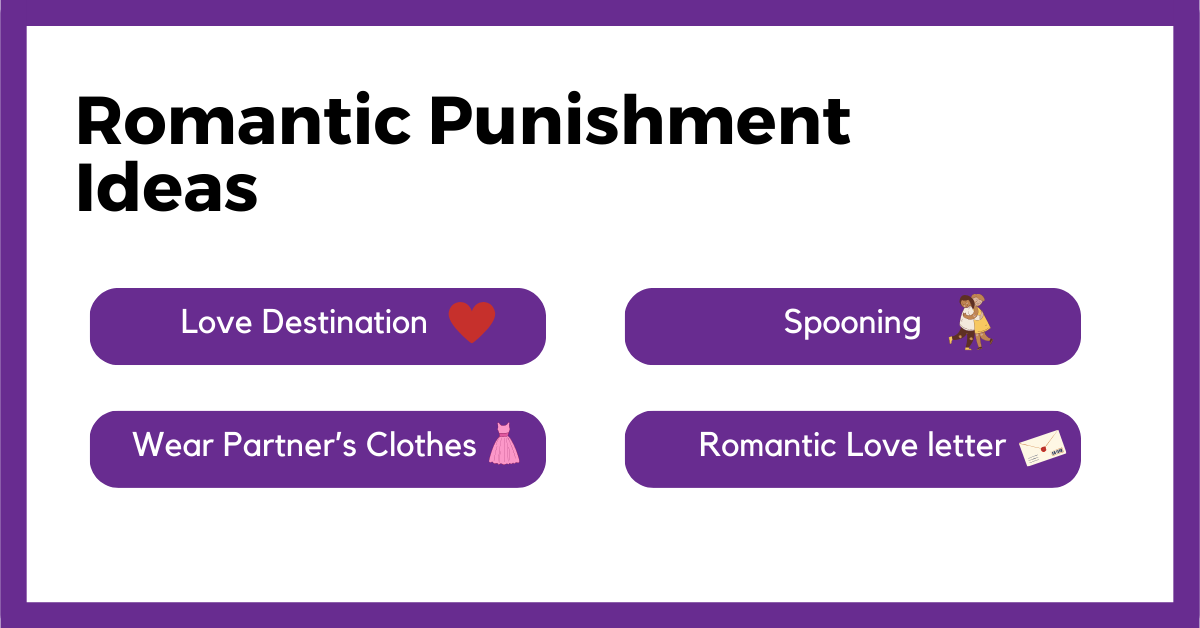 Writing a romantic love letter
If you are into that old-school teaching and still love to get something that is not too fancy and expensive but is always worth having,
Then probably getting a lovely romantic letter from your partner can be in your memories for a longer time.
Now, if you win the game or bet and it's your turn to ask for the punishment, then you can surely add specific requirements in the love letter.
That can go very personal touch and as romantic angles as you want.
In this way, a new love bond and togetherness feeling can be developed
between you two.
Wearing partner's choice clothes
This can be so meaningful for the girls to have this on their side.
Getting that closeness feeling every time is the best thing that can happen to a partner in the relationship.
And this punishment idea can help you to get there.
Wearing your partner's favorite T-shirt and twining like him can always be a cute and romantic side to share.
Now boys can also wear their girl's T-shirt and there is nothing to shame. Only
if you are hesitant to wear it outside then that could be a different choice for your own to decide.
But the common idea for this punishment to be successful is to share a sweet short moment with your partner.
Going for a love destination
If you are a travel lover, then this romantic punishment idea can surely make your day.
Although it might sound expensive, planning, etc., getting a romantic trip from your partner is the best thing you can ever get.
Going to the destination which you love with your partner and spending some
quality time can make a good bonding between both of you.
To make this more romantic, search for places that most couples visit after their wedding for their honeymoon and places that can surely give you good romantic memories.
Long Drive Date
This punishment idea although doesn't sound very exciting can depend upon the mutual interest of your partner.
If you both love to spend quality and longer time, then probably with some cute ideas you can turn this into a romantic one.
You can ask the loser (partner) who is
organizing this romantic long drive for some specific things like car decor which is completely themed out for love.
During the long drive breaks (when you hold for some snacks or eating time) and still being in the car, the partner can do something special for you to develop more love.
Spooning Effect
One of the best things that a partner can probably make between each other when it comes to love angle.
To complete this punishment, the doer has to satisfy the other partner with the spooning effect.
And they are not allowed to move away
unless the partner grants permission.
With this spooning where both of you will be close to each other, indeed a lot more closeness and deep affection can be felt.
When it comes to scientific things, it is said that while spooning to your partner a different set of hormones are released known as oxytocin and this helps in creating exceptional bonds.
Blindfold Kiss
When it comes to kissing, indeed it develops an exciting intimate action from the body.
But when you take it to different levels and try to set it in a way where you probably feel more attached.
This could be very beneficial if you know that your partner is a bit shy about making a first move in love.
The idea of going with a blindfold kiss can help in avoiding the weird situation while initiating the love scene.
Temporary love tattoo marks
Punishment can be sensed when it is seen for a longer period so that the winning side (partner) can live with the moment.
This punishment idea of getting a love tattoo mark can make the partner special.
The tattoo marks can be so special and
specific just like Name initials, Date of the anniversary, funny line about partner or love, best romantic date, etc.,
The purpose here is to get something written for the special moments and dates that you both shared earlier.
This can give a repeating memory to both whenever you notice temporary tattoo marks.
Give me a Massage
Who doesn't love to get massages? And when it is done by your partner, then that particular session could be worth it.
Spending quality time and getting those special finger touches from your partner to get that warm and hest touching feeling always shifts you towards a different sweet mood.
Being in that massage moment and enjoying every move that your partner advances on you can help create better trust and more attached centers between the two.
A completely different form of emotions, thoughts, and feelings can be transferred simply by moving hands over the body during the massage.
That small touch around the lingering parts can truly trigger the best love among both of you.
Romantic Punishment Ideas For Boyfriend
This section will surely give the best help for the girls in order to get some ideas where
they can probably set out some easy but interesting punishments for their boyfriend.
So, without any more delays let's check out the punishment list:
Lift me in your arms
One of the best and most needed for girls from their boys is to be in the arms.
Simply ask your partner to lift you in his arms for a longer period just like carrying a small baby.
And by this, you can easily share a cute moment instantly.
Being lifted in his arms can truly make you feel special and this allows you to be as close as him and stay attached to his
heart.
No kiss challenge
One of the most interesting and challenging romantic punishment ideas to probably to give it to your boyfriend.
In this, you need to take active participation and all you need to do is ask your partner to stay still and he can't make any advance move on you.
You can simply make him more uncomfortable by getting close to him around his body just in a moment where you make him feel that you are about to kiss but you would not kiss in real.
The idea here is just to get as close to the partner possible but no kiss would happen
in real and in any situation.
By doing such actions, a true love bond can be shared.
Don't touch me
The most common part where the boys can't resist is when they see their girl wearing some of the hot clothes.
Get in front of your boyfriend in such clothes that you feel that your partner can't get his eye away from you.
But the catch here is, that your partner can't touch you during this moment.
Make me a nice dinner
Smallest but so much to have by your memory side. Such small acts do play a great role in a relationship.
Making dinner for your partner can surely put you in a dominant position in your partner's eyes.
Whether the dish is a heavy or light meal, cooking something for a partner with absolute love always communicates a true love bond.
Praiseworthy speech
Ask your boyfriend to give a speech that showcases too much love and tons of praise for you.
By this, you can get to know how much your partner loves you and what kind of thoughts he has in his head.
Such sweet and lovable speech can honestly be able to help to create utmost affection and build solid confidence in the girl.
Saying some of the nicest words, and cute and romantic phrases in your speech can easily help in making your girlfriend feel cherished and special.
Romantic Punishment Ideas For Girlfriend
When it comes to punishing your girlfriend (in a fun way) no doubt boys always get excited and this alone part they do like the most.
So to get your things done by your girl, this situation can be the best way to try out.
Thus, simply let's check out the different ideas:
Sit on laps from the front
Getting close to the partner always creates an intense moment that both of them can probably share.
Sitting on laps can be one of the good ideas to get from your girlfriend especially sitting from the front meaning both of you face each other.
Now, the sitting can normally be longer and it depends upon the boyfriend what things he wants from that situation.
Propose in a live match
Rememberable thing to ask from your girlfriend and that can deeply stick with your life forever.
Now as this is to be done with a punishment side angle, the level of excitement can be felt to different levels.
In this, expressibility and dare can be seen in your girl.
Immediately getting into the proposal situation in front of huge crowd in the middle of the live match (cricket, football, basket, etc.,) instantly grabs the attention of many
And that moment alone can be felt so special for both of the partners.
Skincare routine
Although usually boys don't prefer any type of skincare routine (not all) getting it from your girl can always be better.
Your girl needs to treat you like a small baby and for a week you must get a perfect skin care routine.
The real intention behind getting a skincare routine is just to get very personal and attract the utmost care from your girl towards you.
All these activities will surely lead to better understanding between both of you and at
same side you can get healthier skin.
Recommended Article:
Amazing flirty punishment for losing a bet
Cute Romantic Punishment Ideas For Long-Distance Relationship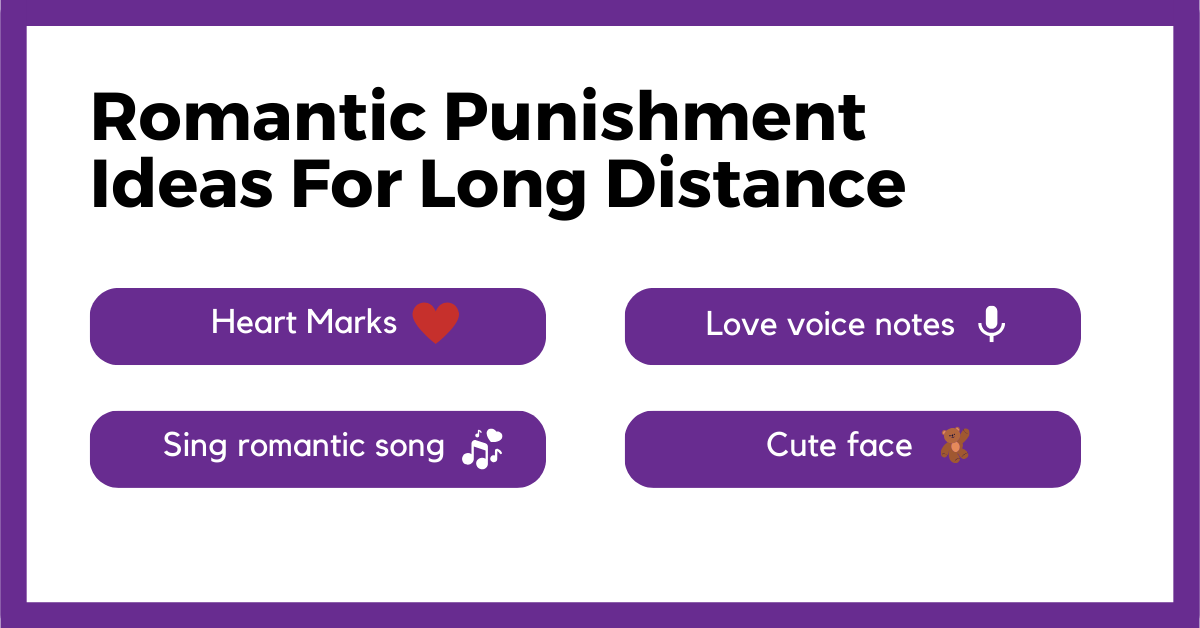 Maintaining a long-distance relationship is always a big job and if you can successfully manage every possible thing, then definitely you are lucky enough.
Alongside playing such small games or making some fun bets with your partner when you are in a long-distance relationship, the joy and time being will always be felt differently in this scenario.
Let's quickly some of the best punishment ideas to give to your partner:
Make a heart on the face with lipstick
Send 2 minutes of love voice note on WhatsApp
Sing a romantic song
Share the deepest and most romantic moments of each other.
Make a cute face for the next 5 minutes
Conclusion
With this detailed list of romantic punishment ideas, I hope you are in a better position, and with some of these, you can add your stuff and make it more romantic based on your relationship and understanding that you share along with your partner.