Do you know what is the best way to make bet fun? 
Adding fun punishments. 
Why should you make a fun bet with your partner? 
It will make you come closer than before and you both will enjoy each other's company 
Are you looking for unique punishment that will make the bet and day even more fun 
Then you are at the right place.
Below I have shared the punishments that will not disappoint you.
If you enjoy this then please feel free to explore.
Good Bet Punishment Ideas For Couples 
1 Everyday Flower Day 
Loser has to give flowers to the winner every day for a week.
But there is a twist because it will be boring like this.
You have to present different flowers each day and dress like Romeo.
And propose every day for a week with your specially crafted love speech.
Prepare a new speech every day, it will be fun and I'm sure your partner will look forward to the next day's surprise.
Related-
21 Bets To Make With Your Boyfriend [Love Punishment Ideas]
35 Fun Bets To Make On a Date [To Know Him Or Her Better]
2. Free Assistant 
The loser has to become a personal butler or has to follow the winner's request without questions.
You can go one step further and have your partner dressed like a butler which will make it more interesting.
Just imagine every day you wake up you will have your butler ready for any command.
You can decide beforehand what task you will do or how much time you will act like this.
3. I Love You ( There's a Twist )
Loser has to say I love you to the winner every time the winner says it.
It can be in public or private it just depends on when the winner demands it.
You can take it to the next level by having a loser propose to you every time you say it.
Just imagine having your partner say he/she loves you in front of people with a bouquet.
It will be embarrassing but it will be fun.
Related- 45 Good Punishments For Bets With Your Crush [They'll Love]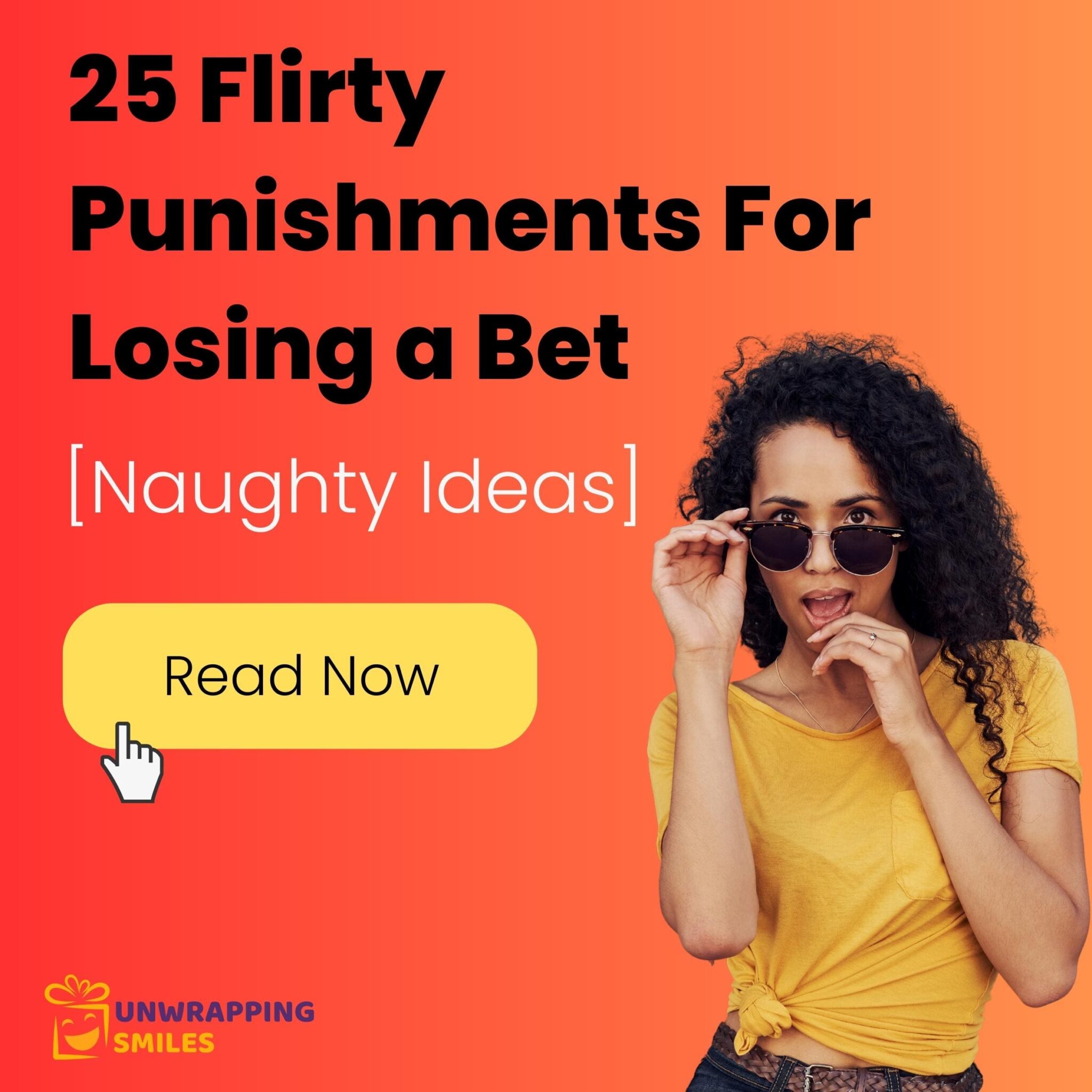 4. Doing One Activity That the Winner Says 
Loser has to do any one activity that the winner says with them.
Like taking a walk, singing, and dancing.
You can decide how many days the loser has to do it.
It will be the best way to build your relationship stronger by spending time with each other.
5. Wearing Matching Clothes 
The winner will decide on clothing.
Loser has to wear matching clothes the winner decides.
You can even take photos with each other to make it more memorable.
It will be super fun.
6. Make You Laugh
Loser has to make the winner laugh with their jokes.
Or whenever you want to hear jokes, the loser has to come up with one.
You can decide how many days this will last.
It is like you are with a standup comedian.
Related– 23 Fun Bets For Long-Distance Couples 
7. Loser Has To Select The Haircut Winner Likes 
Use this chance to select the hairstyle you like for your partner.
But to do that you have to win a bet.
You can also do your haircut in the same style and have that matching style.
8. Losers Has To Praise The Winner In Front of Their Friends And Family 
The winner will give the signal to the loser when to start the praising.
You can decide on that and you can also decide on words or can prepare a script to make it more enjoyable.
Then the loser will follow the script and will say the same thing that is written in it.
Related- 60 Flirty Dares For Your Boyfriend Over Text [Girls Must Know]
9. Winner Will Give an Awesome Makeover To The Loser 
Don't lose the bet if you don't want to look funny.
Your partner will get the chance to do the makeover of you.
You can make it funny or beautiful, it is up to you.
Decide on the theme beforehand and take a selfie together to make it memorable.
10. Loser Has To Take Winner On Long-Drive
It is a simple way to spend more time with each other.
You can let the loser decide the plan or you can decide where you want to go with your partner.
Or you can also put conditions forward that this trip will be funded by the loser.
Have a great time together.
11. Loser Has To Give the Winner A Massage
You can decide on time like how many days, weeks, or months this punishment will last.
You need to also decide when you will get the massage like after work or after working out 
It is a great way to get a free massage so make sure you win the bet.
12. Everyday Gift Day 
Loser have to give gifts to his/her partner every day as long as this punishment lasts.
It can be a simple gift like flowers or anything that your partner likes.
It will make their day and they will look forward to your next gift.
13. Loser Has To Read Stories To The Winner before they Go To The Bed 
This one is fun, you can ask your partner to read stories for you.
You can decide on which story you want to hear or let your partner pick up the story himself/herself.
Decide the time this will last. Like one week or one month.
Or you can make it permanent but you also have to read stories for your partner.
Related- 23 Funny Punishments For Losing A Bet [Hilarious Ideas]
14. Freezing Power 
Winner can freeze the loser wherever and whenever he/she wants.
If the winner says freeze you have to stop your actions and do nothing, be still like a statue.
This will be super fun but it will not be funny if you are the one who is freezing.
Just make sure to win the bet to acquire this superpower.
15. Winner Will Get To Plan The Next Vacation 
The winner will decide on the next vacation location.
So if you have a location in mind win this bet.
You can also take this punishment further by adding this- the loser has to pay for the vacation.
It means you will get the sponsor for your trip and you just need to relax and enjoy.
Decide the budget before making the bet.
16. Free Shopping 
It means the loser has to pay for the winner's shopping.
It just means you will shop without worrying about money.
Decide on how much the loser of the bet has to spend beforehand. 
Win the bet if you have something that you want to buy and missed it the last time you went shopping.
17. Winner Will Do The Haircut For The Loser 
It means you will not go to the barber for a haircut, your partner will cut the hair for you.
That is scary so don't lose if you don't want to end up with some weird style.
It will be best that you take a selfie before the bet and after the bet to make it more interesting.
18. Loser Has To Pick Up the Hobby of the Winner's Choice
If you win you can then decide the hobby that your partner will have to pick up and get better at.
You can also decide on a hobby that both of you can do together that makes it more enjoyable.
You can both start something new together and enjoy the journey together.
19. Loser Has To Dance And Laugh At the Same Time
The loser will have to laugh loudly while dancing 
That will be hilarious to watch.
Take a video if you want to keep this fun memory with you.
You can choose the music of your choice or give something that will make it more fun.
20. Loser Has To Wear the Winner's Favorite Hero Costume ( There Is More To It )
If your winner and you love spiderman then your partner has to wear a Spiderman costume.
But there is a twist.
They have to go buy things in that costume.
It means when they go to buy groceries or go shopping they have to go in that costume.
Just don't end up losing otherwise you will become popular a superhero.
Related- 24 Fun Bets To Make With Your Crush [Amazing Bets Ideas]
21. Make a Funny Face 
Loser has to make a funny face whenever and wherever the winner says it.
It will be super fun to see your partner coming up with new faces every time.
Imagine walking and asking your partner to make a funny face that will be super embarrassing.
But other people walking nearby might enjoy it.
22. The Loser Has To Try Things That They Find Challenging And Are Avoiding
If you lose the bet then you need to try the things that you are avoiding.
Like talking To the camera or going on the run.
Loser has to make a list of things that they find challenging and are avoiding then the winner will decide which one is best to try.
23. Act Like a Special Agent Or Bodyguard 
Loser needs to act like a bodyguard for their partner.
It means you will dress like a real one and protect your partner the whole day.
It will be fun to walk around with your bodyguard.
Just go walk and do your things and your bodyguard will protect you.
If you want one then win the bet.
24. Loser Has To Create a Poem For The Winner 
It means the loser of the bet has to create a poem on the winner.
Make it about love and describe your partner in the poem and show how much you love her/him.
You can take inspiration from online but try to create something special.
Because you're creating for someone special.
Conclusion 
Hope you enjoyed them.
If you like them then share them with your friends.
Just make sure you both agree before proceeding with the punishments.
Think of your partner before choosing punishment because you want to have fun in the end, don't ruin it with something embarrassing.
Enjoy your time together and add little fun to your life with these punishments.
Also Read-
65+ Funny Bets To Make With Friends [Anytime and Anywhere]