Looking for dares that will add spice to your conversation?
Then you have come to the right place.
Here you will find dares that are amazing, romantic, and funny, they will surely make your conversation more engaging.
You can also take ideas from here and create your unique dare that suits your situation.
Just remember to enjoy and have fun with your boyfriend because that is the main goal of dares.
Give your boyfriend an amazing dare that he can't forget. 
If you like the dares then share them with your friends.
Send Some Excitement His Way: Flirty Dares For Your Boyfriend Over Text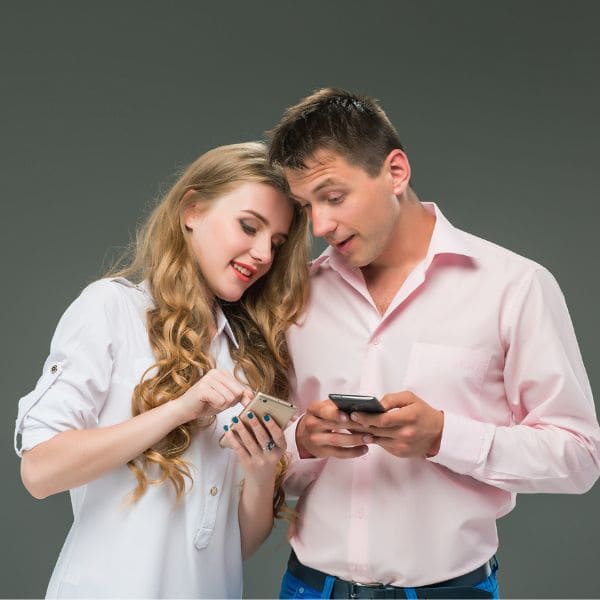 1 Write a poem for me and sing it for me, ( this way you will know how creative your boyfriend is)
2. Try to seduce me and if you can I will give you a pleasant surprise. 
3. Record a video of yourself dancing but in clothes that I chose for you (choose something that you want to see your boyfriend in, make your fantasy come true) 
4. Call your friend and parents, and tell them you love your wife/girlfriend the most.
5. Tell me why you chose me and what you were thinking when you proposed to me.
6. Tell me what steps you will take to get a girl to like you and date you.
7. Share with me your wildest fantasy that you always dreamed of doing with me. (hope you are ready for some amazing fantasy)
8. If I allow you to do one thing with me what will that be? ( give him a situation to make it more interesting, like " what you will do with me in this particular situation")
9. I want you to take me on a date right now ( you can add your condition like taking you to your favorite place)
10. Put lipstick on your lips like a sexy person and do it slowly.
11. Tell me honestly what are your thoughts right now and will you come home right away if I allow you to do something naughty?
12. Tell me what you like the most about me.
13. Act like me, tell your partner to act like you ( give a situation like when you feel annoyed, angry, or want something) that will make this even more fun, you will see your partner's awesome acting. 
14. Moan in a loud voice and shout "I have not felt this in a long time" ( you can give time like do it for 1 minute, you will see a new side of your partner).
15. Start cooking but I will tell you what you have to cook ( you can video call and give instructions and he will follow, test your partner's cooking skills with this dare)
Related-
55 Flirty Dares Over Text [Spice Things Up With These Dares]
25 Flirty Punishments For Losing a Bet [Naughty Ideas]
Amazing One's
16. Text your friends and ask them for advice on how to make up with your girlfriend/wife. ( Read messages together for making it more fun)
17. Reverse Romeo and Juliet role, you become Romeo and let him become Juliet and recite the play and enjoy time together ( make sure to record it because it will be amazing memory)
18. Open your door and shout "my girlfriend/wife is the best".
19. Write on the shirt with a marker that you can't live without your girlfriend and wear it.
20. Look at yourself in the mirror and say you are the most handsome in the world    ( make sure you capture this moment it will be super funny)
21. Tell me more about yourself, something that I don't know about you.
22. Try to touch your nose with your tongue ( make sure you take a photo, these moments are precious, right )
23. Call your parents or friends and tell them that you have become a father ( this will hilarious to watch ) 
24. Tell me one person's name that you want to punch in the face and the reason behind it ( you will hear something interesting )
25. Let's make a bucket list together of things that we want to do as a couple and try to complete them. ( best way to spend time together )
26. What are your fears? Tell me about it and you have to challenge a fear that I will pick.
27. What is the most tricky situation you've ever been caught in and how did you get out of it?
28. Text your ex and say that "you are living a very happy life" and thanks for everything.
29. Wear heels and go out for a walk or you can do a ramp walk. ( both situations will be super funny ).
30. You will eat food that I like today( you can give a list of foods that he has to eat or you can also eat food that he likes and give you a list of it ).
Related- 21 Bets To Make With Your Boyfriend [Love Punishment Ideas]
Funny One's 
31. Draw a kiss mark on your face and go for a walk outside ( this will be super embarrassing and funny just imagining it gives me laugh ) 
32. You have to stay silent the whole day, it means you can't talk the whole day. ( you can decide on which day the dare should be completed )
33. Go laugh at someone's face it can be anyone from your friend to a stranger ( don't explain anything just laugh and run away )
34. Talk to me in a girl's voice and try to hit on me.
35. Say "I love you" to your best friend and also add that "you are the only one for me". ( say to the same gender that will be more fun )
36. Wear a sign on your neck that says "I'm head over heels for my darling".
37. Share with me the thing that you want to do with me the most ( it will be super embarrassing for him ).
38. Keep smiling the whole day it means whenever you see someone you have to keep smiling, ( that will be super awkward ).
39. Propose me in front of a big crowd, you can decide the location, I'm ready for a surprise. 
40. Keep staring at the first person you met ( you can be the first person )
41. I will give you a topic and you have to do a standup comedy on that topic ( you can also give a reward at the end if you get a good laugh )
42. Do one sexy dance in the most revealing outfit.
43. Buy me something that I truly want now ( you can give a riddle or hint what you want now and your partner has to figure it out )
44. Do all your tasks today with the hand that you don't use often ( it means if he uses his right hand the most then he has to do all his tasks with his left hand )
45. Shake your booty ( you can decide on a time limit like how long he has to do it and you can search new dance move and can recommend it  )
Related- 45 Good Punishments For Bets With Your Crush [They'll Love]
Romantic One's
46. Tell me your story in the most amazing way, make yourself the protagonist, and share your story.
47. When was the last time you cried? Share with me the story behind it.
48. Let's go on a road trip.
49. Send me pictures of your childhood ( you can also ask for pictures of his school year or you can check out the photo album )
50. Call me right now and say "I love you loudly" ( you can also add that don't change location and say from where he is, imagine standing in an elevator with a group of people that will be super funny )
51. Give a flying kiss to me whenever you see me ( you can also add that he has to do this in public places as well )
52. Seduce me with your eyes and lips.
53. You have to say meow whenever you speak ( like this "what are you doing meow" )
54. You have to stay away from your mobile phone for the whole day.
55. You have to go on a walk with me daily ( the best way to spend more time together ).
56. You have to do waxing ( it is a test of courage )
57. Do you read erotic novels? If you do then share with me the one you like the most.
58. Have you ever been misunderstood badly? Share with me how that happened.
59. Let's start a new hobby together ( you can both decide on a hobby you want to do together like drawing ). This will build more trust and you will get to spend more time with each other.
60.  Shout "I love you" every time I call you.
Related- 24 Playful Bet Punishment Ideas For Couples 
If you like Flirty Dares For Your Boyfriend Over Text then share them with your friends.
Add your touch to these dares that will make it more awesome.
Prepare dares beforehand and select the best one because it is better to be ready.
Don't miss this rare chance, use it and make the most of it.
Remember, have fun and enjoy the time together.
Also Read-