When someone keeps messaging you and you share a good bond with that same person, then having a conversation to an open level is quite expected and sometimes things can go in a bit flirty manner.
In this, I'll try to cover some of the amazing flirty responses to I need you texts and by this, you can definitely increase the love, have a good time, and share a greater bond with each other.
Remember the idea here is not to hurt's anyone feelings and not to play with someone but only if you believe that the other person will remain friendly and will not take things to the personal level then you try to pass on such replies.
So, without any further ado let's dive in,
Flirty Responses To I Need You Texts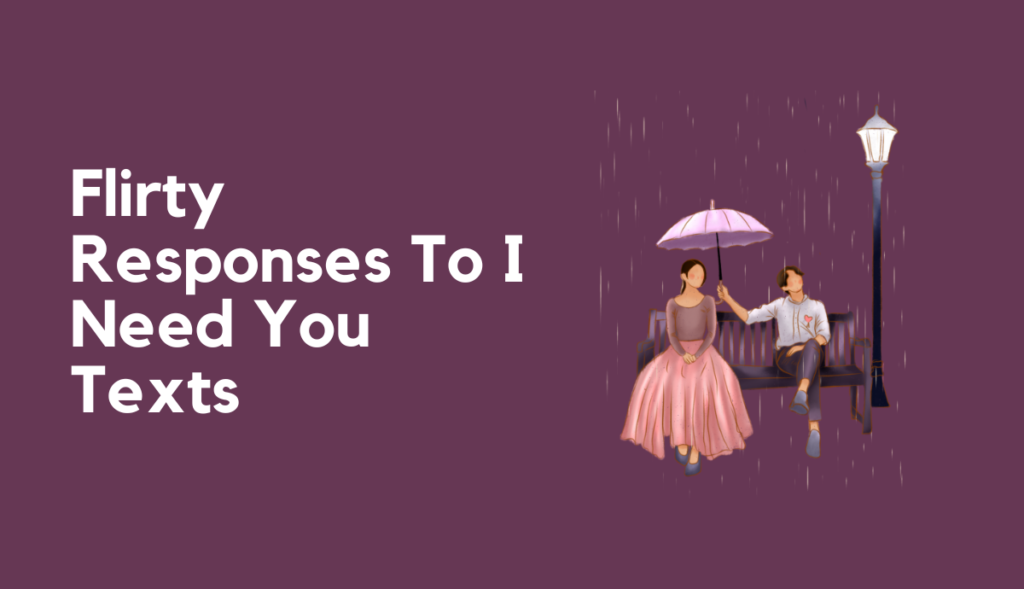 Even I Can't-Wait For This
In this, you are expressing the urgency and somewhat similar feeling that you share with the person. In this way, the expectation can be set to very clear levels that there is a slightly different feeling for the person to have.
Meeting expectations for the person can be very meaningful and this can be a good hint to share with another person. 
My heart Is Always With You  
Very dominating and super conveying way to express the feeling to another person, and this sweet response is a great way to calm and make the person super comfortable. By being not present at the actual moment but still giving a wonderful thought that the soul and true heart are with you – this alone is worth having.
Nobody Can Take You Away
Damn, beautiful! A bit flirty and also a romantic response to I need you. The situation and the common understanding between the person can also make the responses feel very exciting and on a very personal level to be loved.
The expression here is completely different and sharing a feeling conveys that you are with him/her and you completely belong to the person wholeheartedly.
Close Your Eyes & I'm Waiting
The kind and sweet expression makes the person feel that whether in the present or even in dreams, you are always with the person no matter what happens and how the person feels and goes through.
The attitude and romantic behavior of staying at the top of the mind of the person is the best way to keep them close and attached to you all the time.
I Know You Miss My Touch 
Whenever you are close with your partner or have ever been when you have shared close moments with each other, then definitely by such beautiful moments – a romantic and sweet understanding is shared all naturally. 
Whether it was all about making love or simple cuddle all such moments are worth and completely beautiful to live with.
Thus replying back in such a manner that all those precious moments are remembered and truly such moments just come as an instinct.
Flirty Responses To I Need You Messages From Him/Her
I Know Very Well What You Want
This reply is also slightly related to the previous reply where it correlates to the moments that have been shared and lived between the partners. And by replying in this way it can truly showcase a cheezy side of you. 
It totally depends upon your partner, and the love side you share more often, then such replies and messages will strongly connect and give a beautiful smile.
It's My Luck To Have You Too 
Sharing the feeling between the person that you missed and care about the most when you get messages of "I Need You", then making the person realize that even you feel and care in a similar manner,
This will truly ignite the like-wise zone, where the person feels that he or she is also a worthy enough person to be in someone's life. 
It can reflect in both positive and flirty ways too.
My Heart Beats Faster After This 
Utmost true and honest way to reply and also to keep the flirty angle alongside. In this way you can easily convey that – you always wait for the person's message and through such messages, there is a different adrenaline rush that is completely bonded with beautiful feelings and love.
I'll Be There To Hold You Tight 
Saying the things where the person can feel comfortable and alongside a positive visualization can be set by the person that will increase the joy and excitement of meeting from therein.
You will be right there with the person to hold and grab them in such a way that it develops sensible love and the true importance of staying with each other and spending a good enough quality time.
What's A Cute Flirty Responses To I Need You Texts?
I Too Need That Soft Pillow Feelings 
Again expressing the romantic side where you actually have felt and experienced this before along with your partner. By communicating in such a manner – all those simple replies create a strong capability to develop a well emotional bond between the two.
Sometimes being in a similar zone or situation where you both need each other badly, then understanding such replies will be very powerful and also loveable.
My Time Is Nothing Without You 
One of the best and flirty ways to convince the partner in the missing time and to participate in something where you both know the meaningful and true value behind such replies can signify the actual importance of the person for you to have in life.
Missing even small moments where you both can't literally be without each other and such things don't have to be very special but also in day-to-day life, timing and attention is the utmost requirement for any partner.
Command & I'll Be There
Sharing the boss moment and being in a position where your partner can perceive the beautiful sensation that your partner truly follows your commands and every single thing said by you.
This can be a good way to express that there is no other person who can take a similar stand and value in your life.
This Mood Lights Are Turning On My Feelings
Now this one totally depends upon individuality and normal habits and somehow if you are the person who always sleeps in a mood light just in order to be relaxed and stay stress-free from the outside world,
Then this can be one of the perfect flirty responses to I need you. Sleeping in such dim and mood lights where your mood always remains positive, good, and a bit romantic can be best to share such feelings along with your partner too.
Take This Warm Hug
Being in the world of Emojis, where everything and literally almost every expression is shared by these small and cute little emojis, replying to I Need You message with this Hug emojis can be another flirty way to do it.
Again, reminding of any old memories and the moments that can truly make the partner more loved is the key to getting the person every time.
How To Respond To I Need You Texts?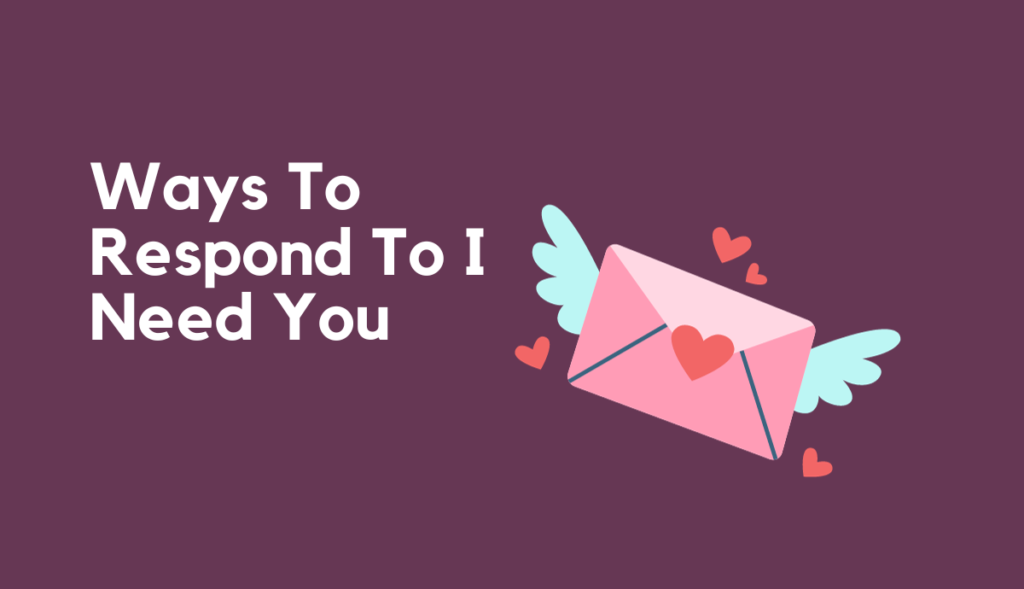 Even I'm Up For A Date 
This one is a smart way to get a simple message to a possible romantic date in the future whenever it is comfortable for both of you. Also, this can totally set back the best moment to live and will make the person appreciate the urgency of meeting and going on a date to spend quality time together.
You Just Steal My Thought
Twining between the thoughts can be another cool and cheezy way to talk with your favorite person. There can be certain moments where you were just about to share similar thoughts or were about to text the same message.
Such thoughtful replies can be very interesting and entirely different affections can experienced between the partners.
Hold My Teddy Bear And You Can Feel Me
This one is just for her and during the relationship at any moment if you ever have given your girl a nice and cute teddy bear then it is always one of the best gifts for her. Girls do like such small and cute things to have by. 
Looking at the gifts or things which are given by a partner always takes you back to lovable and a situation where the feeling of the person can be experienced to astonished levels.
Holding the Teddy bear tight and giving it a hug is quite often normal behavior of the girls and replying back in such a manner can consistently keep her thinking about you in a romantic fashion.
I'm All These Messages Everytime
Showing that your partner's message is of utmost importance and of moral principles where you simply just can't miss those appealing and pleasing moments between the two can totally inhibit genuine acts of care and love.
Saving all those messages that have been shared by the partner can truly be romantic to live by and reminding such gestures can be a new way to develop trust, love, bonding and absolute togetherness.
My Eyes Are Always Looking For You Too
Simply can't live without your partner and when such things are discussed and talked about freely and in separate times where you both exactly understand each other and the currently loved moments will indeed help in framing an angle between each other.
My Head Is Looking To Rest At Your Shoulders
Just like a small kid who blindly sleeps and relaxes comfortably over the person's chest and sometimes over the shoulders.
Expressing such thoughts to your partner can be flirty and also a cute way to say that even you too miss him or her.
Relaxing at your partner's shoulder demonstrates a good bond and close moments that have been lived by you both where you initially make the other person feel special and responsible in taking care of the other person in a most calming approach.
List Of Flirty Responses To I Need You Messages
Our hearts are attached to each other the way it should be.
My time is completely for you and you are the complete owner of it.
Good things always take time but I don't want you to wait for long.
I'm not a flash but indeed my feelings will reach you faster than a flash.
This means we need to meet soon.
I have taken a new mattress but I feel lonely.
Imagine my fragrance reaching you from inside completely.
Already booked the cab and reaching soon.
My love meter is increasing because of this.
I wish you could have seen my smile at the moment.
From love and to be loved at every stage.
Meeting you always raises my excitement by good numbers.
That is a big yes from my side already.
I do need to treat you like a small baby.
Honestly! I know you always miss my love.
Conclusion
These were all the possible ways in which you can give a flirty response to I need you messages whenever you receive such from your partner.
Also remember, sometimes the situation can truly ignite the different atmosphere and meaning of the replies in the most romantic way and it should be understood by you both in the true meaning behind it to have an actual real conversation every time.