There are many hobbies to do and people love to enjoy it but rather than just a hobby it is also necessary for many of us to understand that it requires talent and the skill set to justify it.
Out of amazing and beautiful hobbies that one can do the most common thing that many teenagers and even now adult loves to do is skating and now it become a very important question that is skating a skill or a hobby?
Before we dive into the main part, let's discuss some general concepts and quick facts
Hobbies are usually done in a spare time where we can have some good moments and get relief from the worldly life and stress that we took on.
As we grow from childhood to the adult phase the range of hobbies or the selection of the hobby or in simple terms the likelines of the hobby changes from person to person and in each group.
To understand this thing let's take an example
Like a child might have a hobby of riding a bicycle because it is very of the first things that the kid might learn and he or she might just enjoy that time in being doing that.
But as he or she ages and as they grow up and they enter into adulthood it is not necessary that the hobbies remain since the kid who was loving to ride a bicycle in childhood might develop a new hobby of writing or bookkeeping or stamp collection as he or she enters into to the aged group
Difference Between Skill & Hobby
A skill is something that you dedicately give your time in learning the concept, theories or in a practical sense and become a expert by acquiring all the knowledge & talent data that you need to perfectionate it.
In simple terms skill is a period of training that you put in and with your best ability you try to a master certain task or activity.
Whereas on other hand, hobby is an inauxillary activity which means when you love to do particular thing multiple times it becomes your hobby.
For example:
If you love to write and when you notice you write everyday or multiple times in a month or on a regular basis then you can consider writing as your hobby.
Where is on other hand in order to acquire skill first you need to train yourself for a couple period of months and you need to  invest your time and learning it consistently
So that you can become proficient at that.
One clear sign or difference between skill and hobby that you can easily observe is that
For a skill you need to learn some concepts, theory, formula or phenomena in order to gain some knowledge about
Where is on hobby you don't have to remember anything, you just have previously invested work or a knowledge that has been set in your mind and you do it repeatedly.
Opinion On Skating Is A Skill Or Hobby?
To come on a conclusion or to a fact whether sakting is a skill or a hobby from the above discussion and all the relevant facts that I have stated earlier in this post we can definitely conclude that skating can be considered to be both skill and hobby.
Now in-order to master the skating as a purpose of skill one definitely need to learn it from the person who has experienced or from the master.
And in this definitely you need some time, may be couple of months or year to perfectly get into it and call yourself a trained skateboarder.
Famous Skateboarding Styles
There are literally many differenr types of skateboarding styles one which the beginner or the advance player are following it but based on the popularity below are the few a famous types of skateboarding styles that are listed:
1. Freestyle :
It is one of the oldest type of skateboarding styles which everyone get started into this field and this was introduce in 60s.
The very first important thing that you  need to able to learn in order to do a freestyle skateboarding is that you need to start practicing to roll over before you actually began it and then there are  many futher techniques and tricks that you need to adapt.
Of which there are tricks which can help you to do freestyle is wheelies.
Wheelies are often consider to be an important asset of any skateboarding techniques that a player can do.
It is basically the form where one side of the skateboard is lifted, this will help you in order to get the overall balance of your body and board to perform the trick.
Endovers are basically an extension of the first skateboard techniques that listed I have to live the one side of the food of the field should be able to rotate or to spend the boat exactly to 180 degree so that it can be able to move on either side.
Also, read: 45 Activities For a Child With a Broken Arm To Cheer Them Up
2. Street Skating
The next famous type of get skateboarding style is going on street also referred to as street skateboarding.
The most used top places in street skateboarding are open roads, stairs, rails, plazas and etc.,
3. Downhill Skateboarding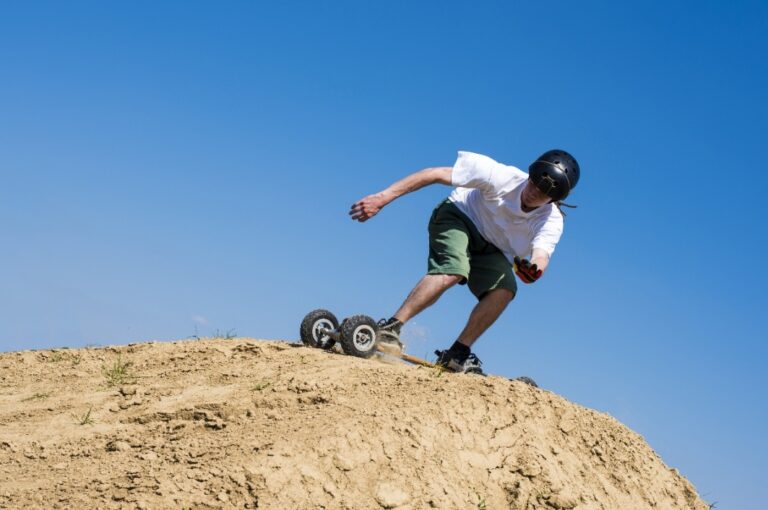 It is one of the type of skateboarding where the skater loves to do more challenges and follow high marks on dares.
As the name suggests, it is just playing along down the hill where the role of pushing your legs into acceleration tends to remain very minimum.
The best part where skateboarder prefer to do this, is the speed and it can reach upto 50 miles per hour.
To accommodate this skateboarder do need to take care of their wheels ensuring having larger one's and having stiffer board.
Recommended Reading
7 Popular Skateboarding Styles That Skaters Prefer To Follow
How long does it take to master skateboarding as a skill?
Time will never a limitation for anyone but it depends upon on the individual person.
Keeping other things and aspects of life, inorder to learn skateboarding from very beginning level it can take upto 2 or 3 months.
Practicing from very basics getting all the small moves polished into a good player zone may demand from an individual to submit efficient learning time.
How much time it takes to adapt skateboarding as a hobby?
For hobby there is no certain specific time limit or time period in order to adapt in as a form of a hobby.
Particularly for the skateboarding once you learn it, once you practice it and once you get into it and became a fond of it you tend to do it in your casual time.
Once a person find that he or she loves to do skating and  they take up some enough ample of the time to do skating in a different ways like freestyle or at beginner stage of riding it.
Cities like Barcelona or New York city are the most popular areas where you can find good amount of skaters and entertaining others with their skateboarding skills in the street, road side areas or backyard areas  and enjoying it as a hobby.
This even last for one or two hours whether they are having fun time all alone or having a group of skateboarders.
Now, as we have cleared majority clear sorts of points on whether skating is a skill or hobby
There is a similar and related type of questions that arises in this topic of discussion and that is
Skating is a sport or hobby?
This interesting question because many people have doubt in skating taking as a sport or as hobby.
Earlier in the discussion I have conclude that how skating can be considered as both skill and hobby,
It is important to answer this statement that skating is a sport or not
If it is, then it needs to be presented with data and facts in order to justify the statement
Below are the events of the sports that happened in a recent years where skating  had seen as one of the sport activity or competition:
1. Tokyo Olympic 2020
In total there were 339 events in 33 sports where athletes from different countries and nation showed immense participation.
Of these 339 events, skateboarding was also seen in among popular sport events.
Skateboarding event in the Tokyo 2020 Olympics game was divided into two section which was in the parks and in the street where men and women athletes played the sport.
Winners from Men's park were from Australia (Gold), Brazil (Silver) & Bronze (United States).
2. Skate London Open 2021
In the year 2021 Skate London announced  competition in skating and which was targeted on a theme of freestyle.
This skating competition was held at Alexandra Palace on September 27th, 28th and 29th.
3. World Figure Skating Championship 2020
One of the biggest and popular type of skating event that many hardworking and core athletes shows interest in participating skating competition is figure skating.
This World championship took place in the year 2020 which was supposed to be held at Montreal, Quebec, Canada.
Usually this championship was framed in the manner of men's single, ladies singles, pairs and ice dance.
However, due to the outbreak of pandemic the competition had to called off.
As from the listed sports events and the competitions it is been very clear that skating is taking a new edge from very beginning and it has been considered as a sport worldwide.
Making the name in the list of international events and sports competition is not an easy but an achievable pride for any kind of sport that allow and arrangement and to spread the importance and represents of it to other nations.
Have seen that skating is when consider in big International sport competition such as Olympic where athletes from different countries take participation in order to compete with themselves to bring a medal for their country.
When we see player so athlete coming from International levels and from the different countries in order to take participation in a sport event then such kind of sport is recognised and consider as a competing sport on an international level.
Thus, we can conclude that skating is also consider as sport.
Conclusion
From all the above discussion and the points that I have place in this post we can conclude from finding and from statement that skating is consider as a skill and as a hobby and to the other part it is also consider as a sport.