There a various occasions where you need to express your feelings of gratitude and appreciation so that the other person can also feel some kind of respect and the relation of togetherness.
Thus in this article, I'll try to cover some of the thankyou for engagement gifts messages and some relatable phrases that you can potentially use on this occasion.
By using these phrases or messages for this particular occasion you can potentially place yourself in a very good position so that the communication remains to be very humble and you do not fall in any awkward situation where you do not know how to respond.
So, without any further ado let's dive in,
Thankyou For Engagement Gifts Messages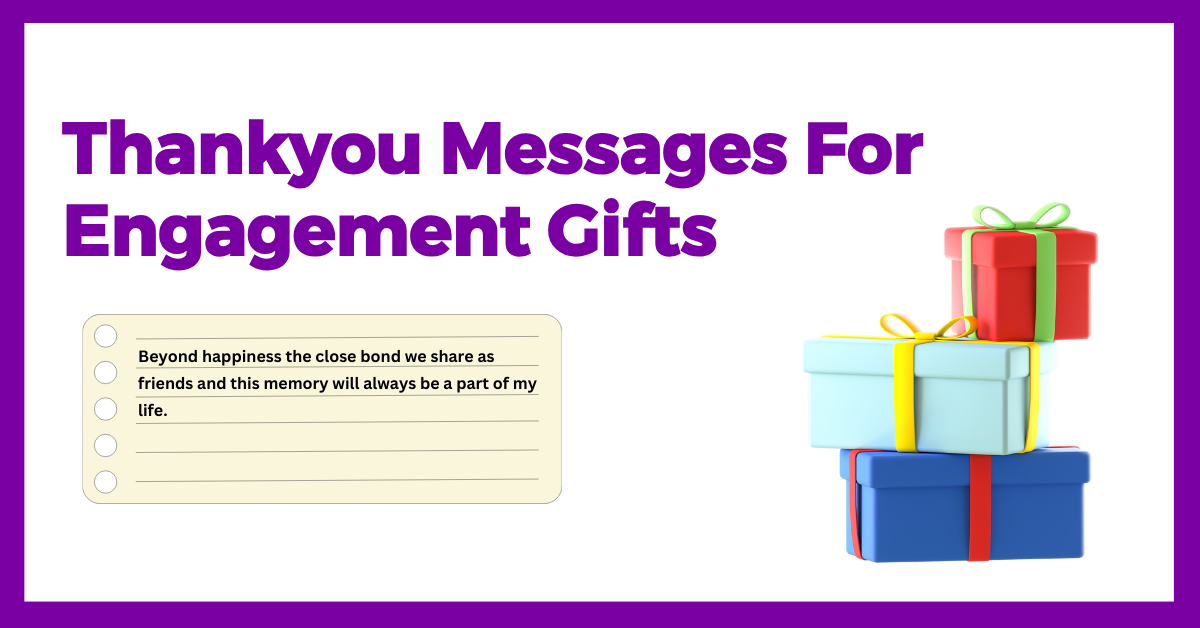 You always make us happy in every sense
The scenario is simply to recognize the other person's efforts and their kind gesture every time they make in & simply to make you happy now this phrase should be used for such a person where you believe that the person has made you happy multiple times on a different occasion.
Now this doesn't need to be very specific for any festivals or any special gathering but even for small moments in life, the person is making you happy for some reason other than this phrase can be used perfectly for them.
This gift truly matters and we going to remember it for a long
Sometimes on such occasions when you receive a gift openly and when the guest asks you to open the gift in front of them and you on a personal level like the gift then such a message can be communicated between them.
Now if the gift truly touches your heart and if it has the potential to give you some good memories for a long time, then this message or small line can be used easily.
It's not the gift but your presence on this occasion matters to us
Sometimes on your engagement occasion, some people cannot make it to that particular event for their reasons.
And if suddenly that particular guest shows up to the event then it probably gives you one of the best surprises that you can probably have at that event.
Engagement is between the couple but when it is celebrated or when it is conducted between the family and friends sometimes the gathering between the close members also makes this event very special.
Therefore if you believe that such guests have shown up to the event then while receiving gifts from such people, you can
easily use this phrase to appreciate the timing and their efforts to come to the event and be part of one of the memorable days.
Thank you for all your support and for being there in the hard times and happiest moments of our life
Receiving a gift to this particular event is one of the sessions and that particular session remains to be very small and very concise when we try to measure it in terms of timing.
But apart from receiving gifts and being in that moment sometimes recognizing that person's effect in terms of what they have contributed to your life whether they have advised you or they have come to the Event and despite hard times or they have always been your core supporter at your toughest moment in life.
Then it is very important to appreciate such people because apart from memory in the outside world you do have such people that make up very valuable and essential members of your life.
Your gift truly reminds us of love. Thanks a lot
Engagement is where there is a special bond formation between two people for a more loved and better life.
Thus, giving a gift that resembles love, bonding, friendship, togetherness, etc. would make up an excellent choice.
And once the receiver looks at such a gift, it will not make them disappointed in any sense.
Therefore as a responsibility of the receiver, it is well needed and must act to be thankful for having such people who can give you such a memorable and lovely gift.
The best thing you can get us. Also thanks for being here
When you know the other person and their usual buying habits for different people on such occasion,
Then as a receiver on this engagement occasion, you too expect that person.
Any kind of gift that brings up a good smile and gives you a bit of surprise is always worth having.
And by getting that stuff, you can thank the person in the most polite ways possible.
You always have to give us a special one.
Sometimes, the special bonding always takes a different position to such occasion.
Whether it is from your best friends or closeder, such people always try to make you happy in every possible manner even the gift has to be very simple.
But that simple gift deals with a great memory connection and truly reminds us of a better bond between the two.
This will truly remind you of a cute smile.
Some of the gifts are meant to be consumed instantly in the sense that you look into them and feel the deep value and the emotion that the person has given to them.
When you notice that the gift on your engagement occasion helps you in bringing a better smile to your face and your partner too then this would be one of the best ways to thank them.
Short Thankyou Messages For Engagement Gifts
Whenever you are stuck in a situation where your friends or close ones do gift you something and that too on your engagement day, then probably giving a quick reply and a small appreciation phrase can make them happy too.
Appreciation always gives the other person a sense friendsition.
Thus, let's quickly cover some of the short and cute thank-you messages for engagement gifts –
1. Your gift is secondary but your time and presence on this occasion truly matter.
2. Thank you for all your best wishes and blessings.
3. Beyond happiness the close bond we share as friends and this memory will always be a part of my life.
4. The gift of yours always stays with us. No doubt you remain to be a special one. Thanks for giving me this gift.
5. appreciate your gift. All we need is love and true blessings.
6. Your time and honest participation in our special occasion bring us more happiness. Thanks for attending our engagement.
7. The love you showed in this gift truly enlightens us and this will make our day a total wonder.
8. Your presence truly injects a strong reactor in every downfall in our journey. Thanks for the gift.
9. This little gift added a great spark and utmost happiness to our engagement day.
10. Friends like you immensely help in
making our engagement day to the best level. Best people bring best joyful moments in life. Thanks for being present.
Thankyou Note For Engagement Gifts
Sometime a small appreciation and kind word that you can pass on to your friend or closed member whenever they are giving you gift in your engagement occasion then such behaviour truly stays back in the persons mind.
And such small act of behaviour brings a good memory and adds up a good value of the person but to happen this in reality you must have a good thank you messages already well in advance with you.
Therefore in this section, I will try to cover some of the thank you note for
engagement gift that you can give to the person from whom you are receiving.
Let's quickly check out,
1. This gift by you brings a good treasure of happiness, love and strong connections between us. Thanks for everything.
2. To this occasion, your gift are so fortunate and brings a lovely cherished memory.
3. Your small and such kind gesture always takes a special moment and place in our life. Thanks buddy.
4. To have a person like you in our life and to our engagement day, is such a blessings. Thanks for giving us the gift too.
5. Your gift strongly builds up a unique togetherness and it was Absoulte a wonderful surprise for us.
6. We cannot deny the fact that your gift to
this day is a ln actual symbol of love and happiness. We are blessed to have you by our side.
7. This unique gift can only be expected from you. I loved it personally. Thanks a lot.
8. Your support in our life at every phase is a true gift for us. Thanks to show up in our engagement day.
9. We are totally overwhelmed to have you today and the gift by you is simply amazing and useful.
10. Your gift totally reminds off the importance of relationship and understanding. This will help us a lot in every conduct.
Conclusion
By all such thank you for engagement gifts messages you can be in a well placed position where while receiving the gifts
you can pass on such kind words to them and you can always thank the person to show up and appreciate their presence to this special occasion.